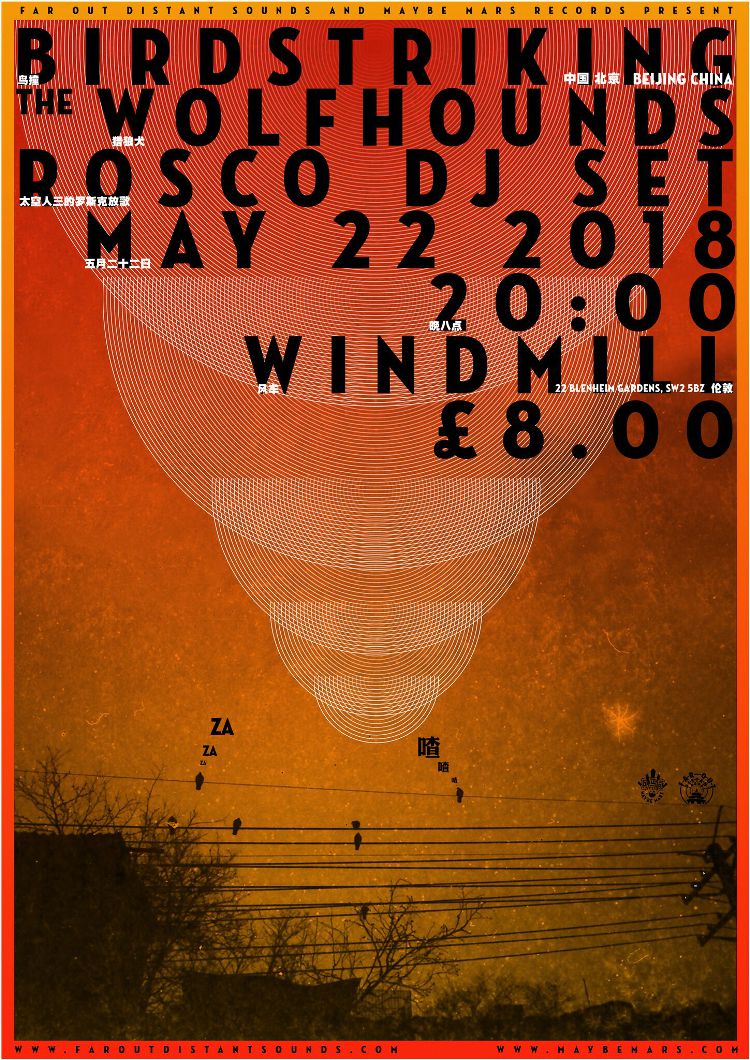 BIRDSTRIKING (Beijing, China)
"Birdstriking and the other bands coming out of China right now are enthusiastic to explore and find out what's their own music. And so that's a new energy in the same way that rock 'n' roll was new—young people finding their youth culture and expression," - Anton Newcombe, Brian Jonestown Massacre frontman Anton .
Like Joy Division forming at a Sex Pistols gig a couple of generations before, Birdstriking was born when guitarist He Fan and drummer Wang Xinjiu met at a Carsick Cars show at Beijing's legendary, now-shuttered rock club D-22. From Birdstriking's first time on that same stage in 2009, the band quickly established itself on the Beijing indie rock scene, becoming one of the leaders of a new generation of rockers born after 1990, growing when China was fully open to the West and now as likely to cite as influences homegrown talent like Carsick Cars and P.K. 14 as imported music like Sex Pistols and Joy Division.
Noisey has made a mini-documentary for the band, and they've toured the USA with Brain Jonestown Massacre.
This a very rare, must-see UK appearance.
https://www.facebook.com/birdstriking/
THE WOLFHOUNDS
The Wolfhounds began as a slightly askew indie pop/rock band, and signed to the Pink label in 1986. First EP Cut The Cake was well enough received for the NME to include them on their C86 compilation album. After three singles and debut album Unseen Ripples From A Pebble on Pink, they briefly moved to Idea Records for the Me single, then rejoined Pink's boss at his new label September Records. September soon evolved into Midnight Music which was the Wolfhounds' home for all subsequent releases.
With original members Bolton and Clark replaced by David Oliver and Matt Deighton, the Wolfhounds' sound developed into a denser, less poppy sound.[citation needed] After a compilation of earlier material, second album proper Bright and Guilty was released in 1989, featuring the singles "Son of Nothing", "Rent Act" and "Happy Shopper". The sound progressed further with the albums Blown Away (also 1989) and Attitude (1990), which found them in Sonic Youth territory,[5] interspersing raging guitars with elegant compositional exercises. This proved to be the final Wolfhounds release of the 80s, with the band splitting in early 1990.
Golding and Stebbing formed Crawl, while Callahan hooked up with former Ultra Vivid Scene member Margaret Fiedler in Moonshake. Matt Deighton formed Mother Earth.
The current line-up is David Callahan (guitar/vocals), Andy Golding (guitar/vocals), Peter Wilkins (Drums) and Richard Golding (bass). The Wolfhounds reformed in 2005 for a gig to mark the 20th anniversary of the release of their first single "Cut the Cake" in 1985.
An EP called EP001 was released on Vollwert-Records Berlin in April 2012 containing three songs that pre-date the band's first single but that were never recorded satisfactorily at the time. Of these songs, 'Skullface' has picked up a lot of radio play.
The band released several 7" singles in 2013, included on new album Middle Age Freaks, released on Odd Box Records in 2014. Also in 2014 an anniversary limited-edition issue of Unseen Ripples from a Pebble (plus bonus tracks) was released by Optic Nerve Recordings.
In October 2016, the Wolfhounds released their sixth album Untied Kingdom (...Or How to Come to Terms With Your Culture). Louder Than War rated it 9/10.
https://www.facebook.com/TheWolfhounds/
Plus DJ set from ROSCO (Spaceman 3)
https://rosco-aka-sterlingroswell.bandcamp.com
Source: Windmill Brixton website