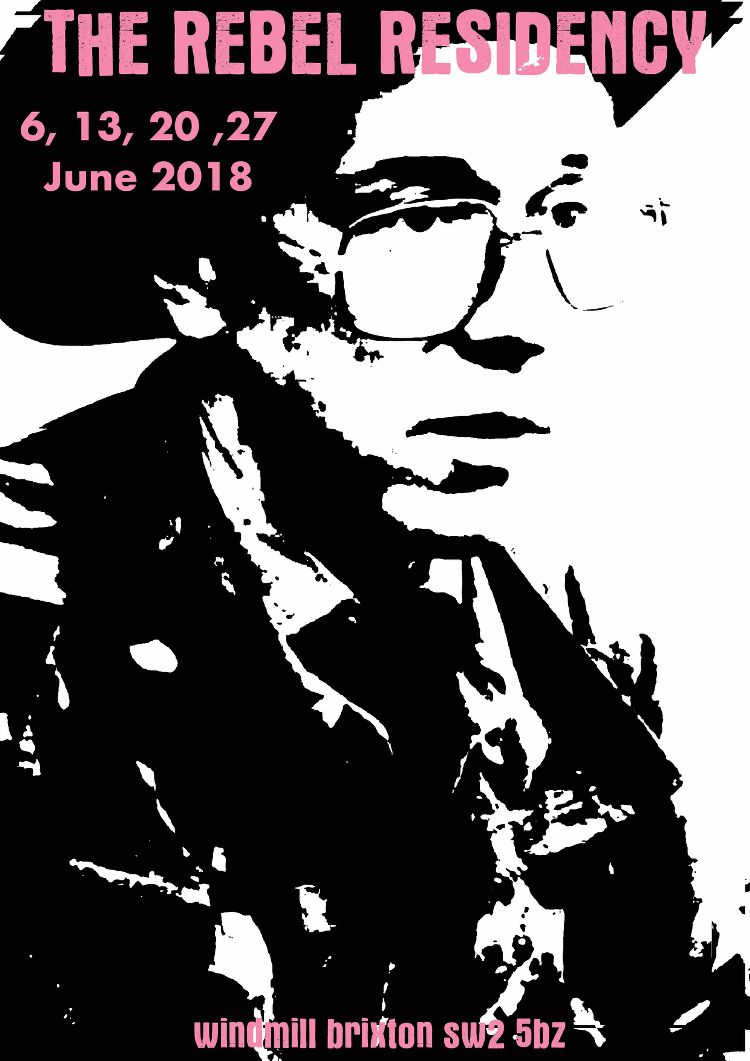 The Rebel has been a huge influence on many bands around south London so last June, we thought we'd give him a four-week residency and invite along some guests. They were such good times that we decided to run it again this year, every Wednesday in June.
And, if you want to come to all four nights, there's a special season ticket available for £13.
THE REBEL
The alter ego of Country Teasers' Ben Wallers, The Rebel dates back to the tail-end of the 80s—having existed side-by-side throughout Country Teasers' prolific career—often releasing records at a steadier clip than Waller's main project with songs too madcap to fit into even their William-Burroughs-by-way-of-The-Residents take on country music.
https://therebelband.bandcamp.com
https://www.facebook.com/The-rebel-124977657592658/
DAVID CRONENBERG'S WIFE
London-based band. Troubling subject matter. 2-time Marc Riley Sessionists. Antifolkers. On Trashmouth records (home of Meatraffle, Fat White Family, Warmdushcer etc)
"bitterly humorous lyrics.. a mix of The Fall's 80s rockabilly inspired 'Grotesque' and the Velvet Underground [on "Hypnagogues"]"—The NME
"What's immediately impressive about DCW is their honesty… Musically sounds like Lou Reed hupping darkly over The Buzzcocks' most famous song while Dan Treacy sits alarmed in the corner." - Drowned in Sound
"David Cronenberg's Wife are an anti-folk act ... peppering their albums with undesirable characters, who Mayne inhabits with unnerving realism." - The Independent
"Mayne goes further than them [Nick Cave & Mark E Smith] in the fearlessness of his lyrics. [...] This is proper independent music – in production, distribution and vision."- Sonic Tonic
http://www.davidcronenbergswife.com
SLUSHY GUTS
Londoner Stephen Keane is the core of Slushy Guts, a very hard to categorise act that plays lo-fi 4-track songs of droll introspection.
With a string of limited cdr, cassette and vinyl releases already under his belt, his music has been described as a cross between David Berman of Silver Jews and Chris Morris of 'The Day Today'.
"it's like glimpsing the notebook of an experimental artist, who – as the choices show – is never too precious to take risks with his selections, nor miss the chance to make you laugh." - Sonic Tonic
https://www.facebook.com/slushyguts
http://slushyguts.bandcamp.com/
Source: Windmill Brixton website