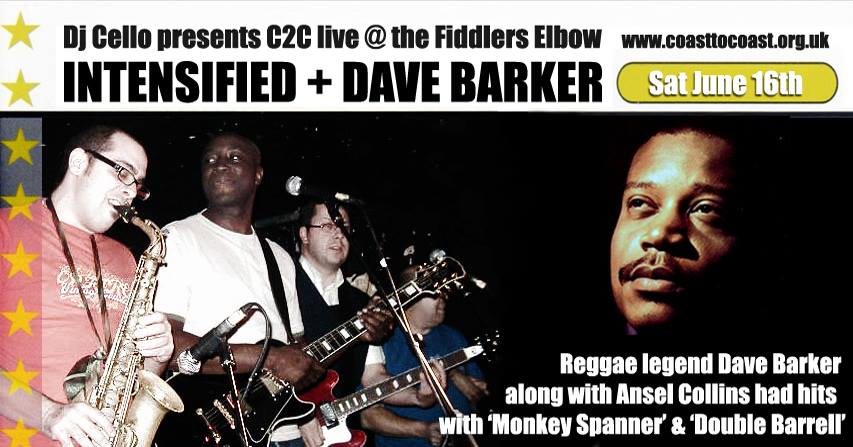 COAST TO COAST - SAT JUNE 16th

COAST TO COAST Fiddler's Elbow - Camden

DJ CELLO &
special live guests 
THE LEGENDARY DAVE BARKER 
& INTENSIFIED

Doors open 7.30pm - Bands on 8pm until 10.45

Bands on 8pm until 10.45 - So please get there early!!!!

Entrance £11/5 after 11.30

Tonight COAST TO COAST celebrates its 19th Anniversary Party with live guests DAVE BARKER + INTENSIFIED. 


COAST TO COAST returns at the Fiddler's Elbow as a monthly night

Coast to Coast started in the west end of London in 1999. Then it moved to become a monthly, packed and lively, Saturday night in the now trendy part of town - Old Street, E2. Eventually it became a weekly night, which was indicative of the growing success Coast to Coast had as a club & Cello as a respected DJ. Part West-Indian blues party, part 60s Soul night. DJ Cello's Coast to Coast was the new scene in town. Whether you were visiting London for the weekend or living and working in the Smoke, Coast to Coast was the main event in Town at this time. An eclectic fusion of Northern Soul, Reggae, Ska, Funk & Boogaloo combine in one of the unique club nights in Europe. Packed out with all types, enjoying rare black music from the 60s in an atmosphere more like your best friend's birthday party, this really was a truly special event in London Town. But sadly in the summer of 2009, Coast to Coast came to an abrupt end due to problems with the venue. Dj Cello then move on to do a night in Brixton, Brixton Rocket,

In 2011 Coast to Coast made a number of successful comeback shows in North and East London respectively. The show in Kensal Green, 2011, the legendary 'Dave Barker', who 1971 brought international fame as part of a duo with Ansell Collins with a number 1 hit in the UK, 'Double Barrell', made a surprise appearance to an absolutely electric atmosphere, which convinced Dj Cello he should bring back his legendary nights more regularly.

Choosing the right venue in the right location is absolutely essential for a regular night. The Fiddlers Elbow in Camden is just that. Being only 3 mins walk from Camden Market, it's in the heart of the music capital of the world. Camden has always been the best location for alternative music and different types which is perfect for Coast to Coast.

The Fiddler's Elbow is a music lover's paradise with a full in-house PA and brilliant sound engineer to provide a quality of sound most would be envy of. The Fiddler's offers the kind of friendly atmosphere rarely found among the city's mid-sized music venues. A vast amount of experience and a genuine love for music is portrayed through the welcoming owners, and bar staff which is perfect for DJ Cello's Coast to Coast. In addition to the main bar area, there's a small bar away from the main music area that gives people a chance to chat and 'get away from it all'. This leads to a small outside smoking area. The cheapest drinks in the area also help to make it an attractive night out.

Coast to Coast's opening night at the Fiddlers Elbow was massive, with special guest 'The Legendary Dave Barker on the mic', the atmosphere electric and then went on to enjoy 4 great years at this legendary venue and now continues to thrive!

A night not to be missed!
Source: The Fiddler's Elbow website