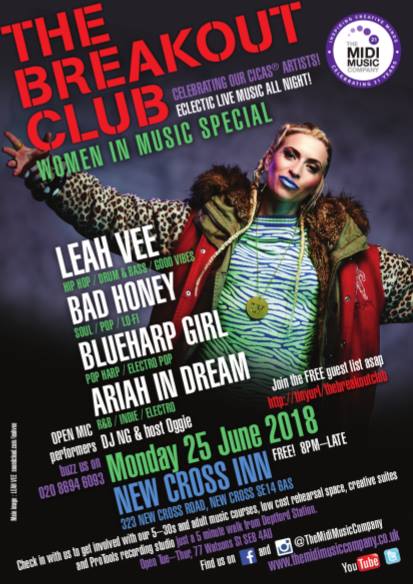 The Midi Music Company proudly presents The Breakout Club, Women in Music Special! We are back! at the New Cross Inn on Monday 25th June 2018 for a night dedicated to celebrating our CICAS® artists with an eclectic mix of live music. Hosted by Oggie & featuring DJ NG on the decks. FEATURING
Leah Vee – hip hop / drum & bass / good vibes
Bad Honey – soul / pop / lo-fi
BlueHarpGirl – pop harp / electro pop
AriahInDream – alternative R&B / indie-electro To take part in the OPEN MIC segment, call us on 020 8694 6093. Secure your FREE ticketed entry today!
Source: New Cross Inn website