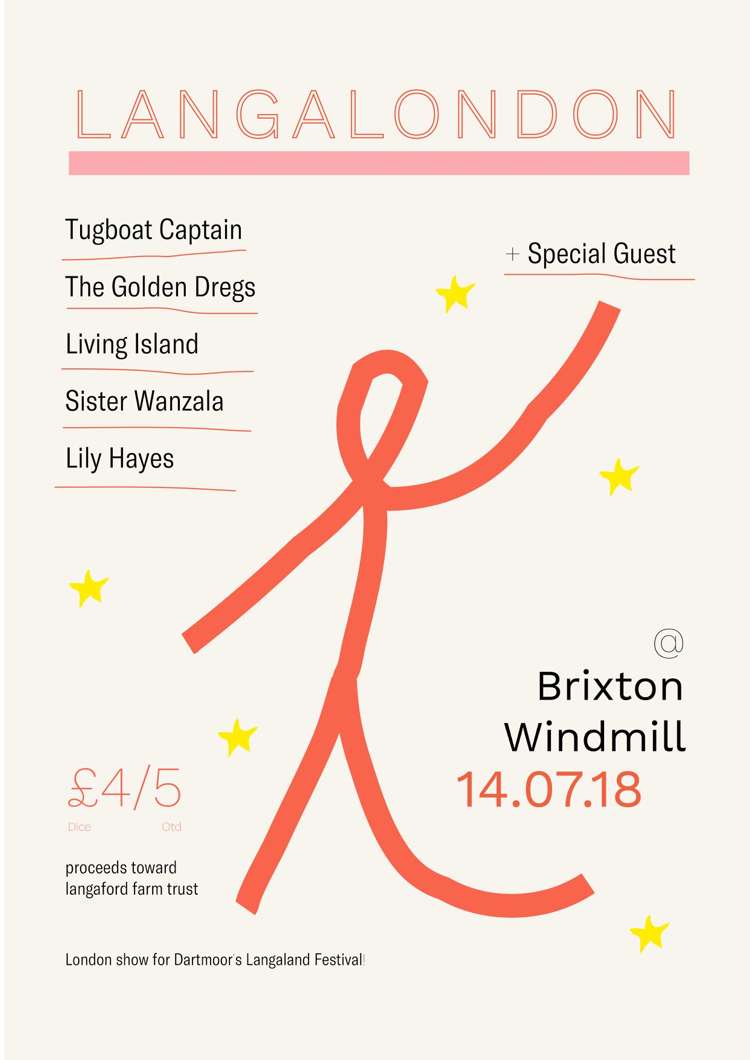 "The friendliest fest in the west' is coming to London for one night only. Langalondon will play host to a variety of Dartmoor festival Langaland's favourites at Windmill Brixton raising funds for the charity festival and for Langaford Charitable Trust."
TUGBOAT CAPTAIN
South London lo-fi indie-folk 4-piece who sound like Bon Iver if his backing band were Guided By Voices. Having begun as a solo project the crew has now expanded into a more ferocious live unit playing up to the anthemic singalong choruses on the recently released record. All aboard the tugboat!
https://www.facebook.com/TheTugboatCaptain/
THE GOLDEN DREGS
"With a musical approach inspired by 70's Americana and jam bands - The Basement Tapes, The Grateful Dead and the Mussel Shoals scene - Lafayette is an album fit for longer evenings​ full of simpler decisions. It's jangly summer-summoning pop for the hours when the sun is disappearing below the sea." - ART IS HARD RECORDS
https://www.facebook.com/thegoldendregsmusic/
SISTER WANZALA
Cold Funk from Bradford.
https://www.facebook.com/sisterwanzala/
LIVING ISLAND
Indie pop from London.
https://www.facebook.com/LivingIslandBand/
LILY HAYES
Compelling, harmonic singer-songwriter from Falmouth.
https://www.facebook.com/lilyhayesmusic/
......plus very special guests to be announced.
Source: Windmill Brixton website