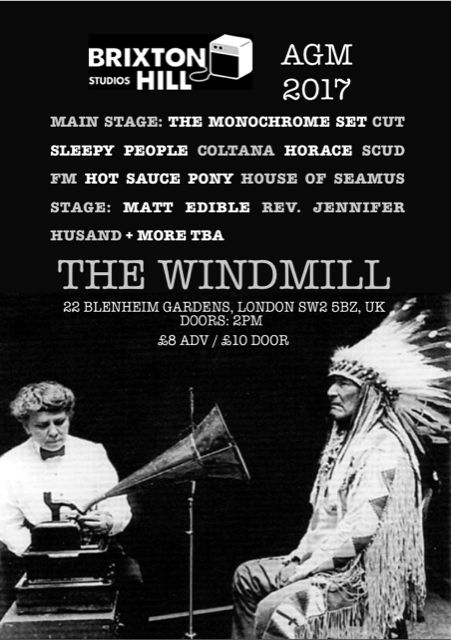 Our nice neighbours, Brixton Hill Studios throw their annual allday party.
THE MONOCHROME SET
The Monochrome Set consist of, original Monochrome Set members, Bid (Guitar/Vocals) and Andy Warren (bass) with John Paul Moran (keyboards) and Mike Urban, who was previously in the band in the early 90s, on drums, The Monochrome Set formed in 1978, and were heavily influential in the 'post-punk' scene that evolved after the initial scorched earth of punk.
The band's early releases were on the legendary Rough Trade Label before signing with Virgin offshoot Din Disc. They also released several albums on the Cherry Red label, making a notable appearance on that labels' well known 'Pillows and Prayers' compilation.Though The Monochrome Set split in 1985 the next decade saw several reunions for both live gigs and further studio recordings, their album release count now being well into double figures. After a hiatus of over a decade the band reformed full time in 2010 and have since toured all over the UK, Europe, Japan and the USA, whilst also releasing five new, critically acclaimed, studio albums, the most recent, 'Maisieworld', on the German 'Tapete' label in February this year. 2018 sees the 40th year since the band formed and they will be gigging worldwide to celebrate this.
http://www.themonochromeset.co.uk
SLEEPY PEOPLE
Progress Punk at its finest!
Formed in Wakefield circa 1989, Sleepy People (who also recorded as Blue Apple Boy) is a psychedelic rock band known for eccentric, energetic songs and live performances, as well as for incubating several future members of Britpop band Ultrasound.
https://www.facebook.com/Sleepy-People-Band-897620897054217/
CuT
"A joyous burst of adrenalin fuelled scuzzed up noise" - Louder Than War
"The best band I've seen in years" - Steve Lamacq
http://soundcloud.com/cuttheband
https://www.facebook.com/cuttheband/
COLTANA
Alternative punk-rock from Brixton
https://www.facebook.com/Coltana/
HORACE
Sedentary surf.
SCUD FM
Zsa Zsa from Meatraffle's new trumpet, synth and guitar project.
"Bastard music for people lost in the system, locked in the mode of production of passivity and consumer culture. We also hate golf and flip flops." .
https://www.facebook.com/SCUD-FM-548164638902088/
HOT SAUCE PONY
Formed on Brixton Hill featuring current and/or ex-members of Rat The Magnificent & stuffy/the fuses.
A sound came out sounding like Julie Cruise and Stereolab playing poker at a Sunn 0))) gig. Ambient Avant Hard.
Their forthcoming debut album was recorded by Steve Albini in Chicago.
https://www.facebook.com/hotsaucepony/
https://hotsaucepony.bandcamp.com
Plus, on the second stage :
MATT EDIBLE https://www.facebook.com/mattediblemusic/
LOCAL TROUTS
http://localtrouts.bandcamp.com
REV JENNIFER HUSBAND
and more tba
Source: Windmill Brixton website