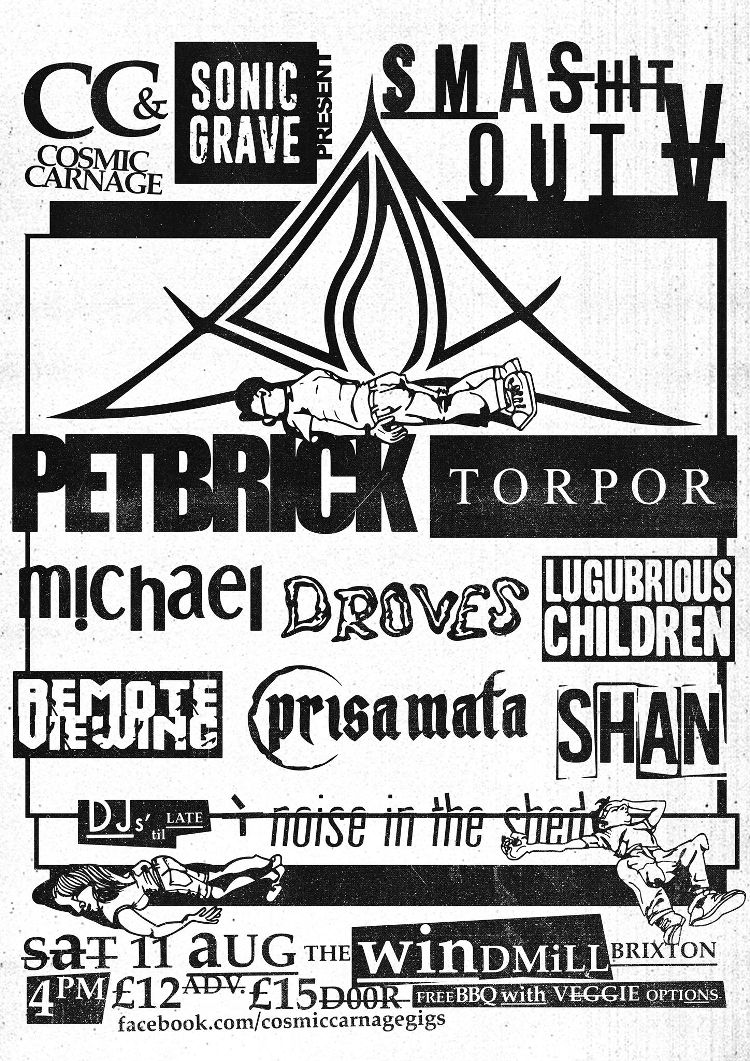 SmaSH it oUT V Summer All-Dayer with:
BONG Newcastle's drone/doom heavy-weights. If you don't know who this lot are you've probably visited the wrong page... Their latest LP – Thought And Existence (Ritual Productions) – is a stripped down, cosmic-drone masterpiece and we couldn't be more excited to bring them to Smash It Out.
https://bong.bandcamp.com/album/beyond-ancient-space
PETBRICK
Can you say 'super-duo'!? Big Lad's Wayne Adams and Igor Cavalera (yes THAT Igor Cavalera!) of Sepultura, making the sort of thunderous, throbbing racket that sits somewhere between Big Lad on a very, very bad day and The body on a good day. This. Will. Be. Legendary.
https://soundcloud.com/user-291289584
TORPOR
Post-everything sludge, oceanic noise for the end of the world, and quite simply the heaviest thing to come out of Penge, well, ever. They structurally weakened the Black Heart when they played for Sonic Grave in February; we can't wait for them to do the same to the Windmill
https://torpornoise.bandcamp.com/
MICHAEL
It would certainly be a BAD idea to miss these GUYS…. Brand new project from former members of one of the scenes most missed bands. Expect the unexpected. And riffs, expect riffs as well, load's or 'em.
LUGUBRIOUS CHILDREN
Insect Warfare were a fucking amazing band, weren't they!? This lot from Leeds channel all the Texan's grinding rage and face-melting riffery, and hardcore snarl, and funnel it straight down your fucking throat in 33 second blasts.
https://lugubriouschildren.bandcamp.com/album/oblivion
DROVES
Power-grind, Power-grind, Power-grind, Power-grind, POWER-GRIND!!!! Joining us all the way from Glasgow. You'll recognise the drummer from Acid Cannibals; and recognise that hammering in your skull from all the POWER-GRIND!
https://drovesgrind.bandcamp.com/album/chainsmoker-ep
REMOTE VIEWING
New band from 4/5's of much missed sludgers Palehorse. This time they've got guitars, too, and an assault that is something akin to Fudge Tunnel covering Iron Monkey covering Throbbing Gristle. Which sounds amazing, if you like that sort of thing… And you absolutely should!
PRISA MATA
"London's scuzziest, riff-belching power trio, and that's exactly why we love 'em. Blackened stoner-doom that sounds like a woolly mammoth hurtling down a mudslide to warn you about the illuminati." As someone once said.
https://prisamata.bandcamp.com/
SHAN
Both members of 'beer-n-fags-n-Magic The Gathering' powered duo Black Shape, plus one. Sounds like a sloppy Slayer, drunk, in your dad's garage. Perfect.
https://blackshape666.bandcamp.com/
NoISEe in tHe SHeD curated by Cementimental & Listen Lisse Nnja Riot
Free BBQ with veggie options
DJs until late.
See you in the pit!
Source: Windmill Brixton website