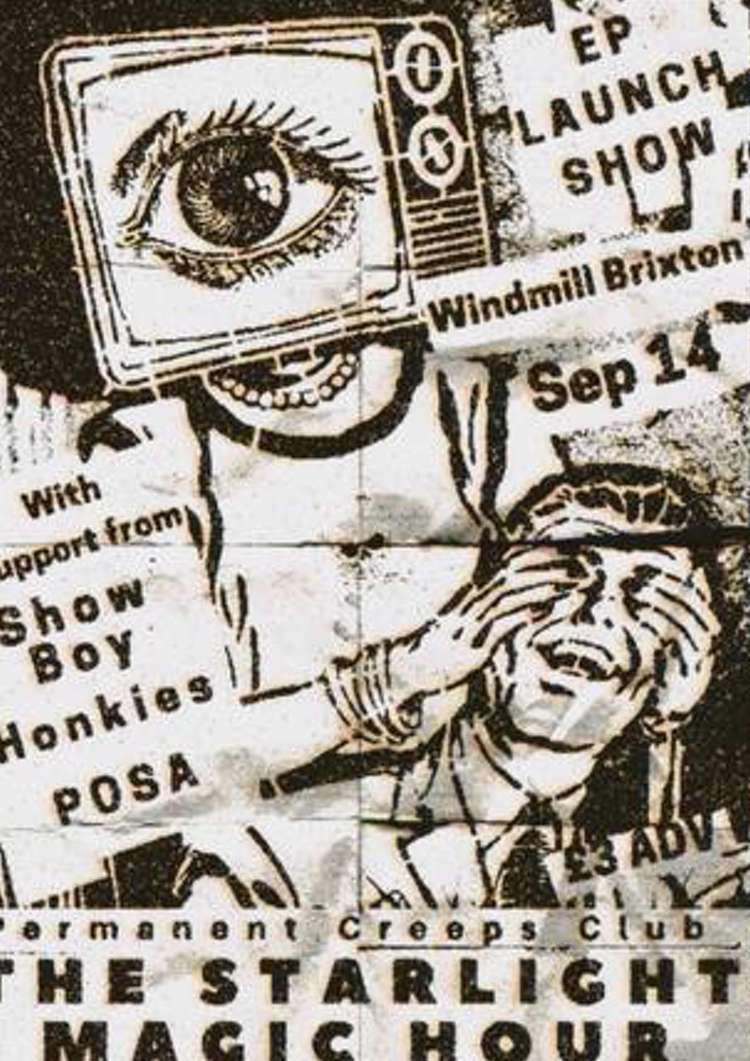 Permanent Creeps is stoked to be releasing the debut EP by The Starlight Magic Hour, and to celebrate this we're throwing a launch party down Windmill Brixton with support from Show Boy, label-mates -H0nkies and POSA! £3 ADV Via DICE!
THE STARLIGHT MAGIC HOUR
"Remember when Fat White Family first turned up? The shows were a spectacle, but there was an overriding sense of unease. A sense of the wrong, the unpleasant, of their being attracted to darkness. That's continued even if these days they've moved onto bigger stages." - LOUD & QUIET Magazine
Newcomers The Starlight Magic Hour, the Manchester/London outfit, have a similar feel. Over the past 12 months they've been regularly playing shows in those major cities. London-based bookers Permanent Creeps – who've put on shows by the likes of Vulgarians, Hotel Lux and, the aforementioned mentioned Fat Whites – are putting out their their new material. And they've detected a similar grim magnetism in it.
Their first release via the label is 'Song To Bethy', the lead single from a new EP coming out in September. They play a show at the Brixton Windmill on 14 September to mark that occasion.
The track, a Pogues-y macabre country-rock number where the main riff is one of them whistling, is officially released on digital platforms on 23 August. In the meantime, check it out below"
https://www.loudandquiet.com/listening-post/like-fat-white-family-the-starlight-magic-hour-are-the-kind-of-band-built-for-a-dubious-lock-in/
SHOW BOY
"Like Prince and Ariel Pink throwing glitter at each other" - Reprezent Radio
https://www.facebook.com/pg/showboyband/
https://soundcloud.com/showboyband
HONKIES
Premium synth infused country honky-tonk from South London.
https://www.facebook.com/honkieshonkies/
https://soundcloud.com/honkies/entitled-to-nothing
POSA
POSA = Piece Of Shit Act
https://www.facebook.com/posaband/
https://soundcloud.com/pieceofshitact
Source: Windmill Brixton website