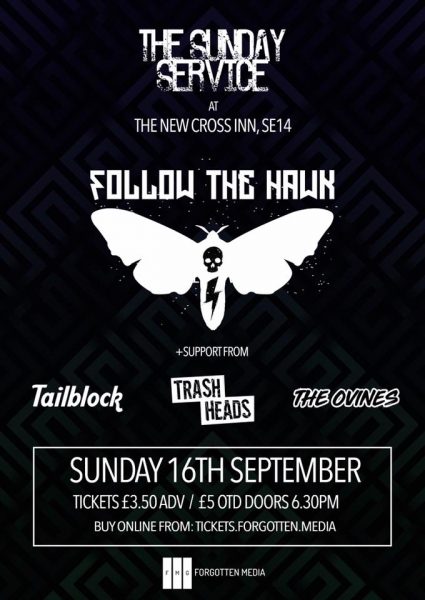 Welcome to The Sunday Service. Come together at the New Cross Inn on the 16th of September and rejoice in sound. Playing at the altar we have: Follow The Hawk
The heavy, beer-fuelled, 4-man riff machine from South-east London.
Huge driving drums push the hard-rock quartet loud and proud. Massive, catchy, and at times quirky guitar hooks, flawlessly combine with powerful, almost operatic, and interchanging gritty vocals to deliver an energetic performance which carries their music with the crowd, way beyond the stage.
Check out the brand new video for "Thunderlord" on YouTube now.
www.facebook.com/followthehawkband
www.instagram.com/followthehawkband
www.twitter.com/followthehawkuk Tailblock
The 3-piece post hardcore/emo heroes from north Kent. Currently promoting their sophomore EP "Think Or Be" and playing massive shows everywhere. No floppy fringes, no eye liner, just sick riffs and big choruses. Get their brand new record and debut "Burn Your Bridges" at their bandcamp page.
www.facebook.com/tailblockband
www.instagram.com/tailblockband
www.tailblock.bandcamp.com Trash Heads
Having released 2 records so far: 'Skyscraper Heartbreaker' (2015) and 'Trash Head Don't Dance' (2017) – 2018 has seen the band return with a wealth of new material for their upcoming record due out next year. For fans of QOTSA, Faith No More, RATM and Death From Above.
www.facebook.com/trashheadsuk
www.youtube.com/trashheadsband
www.instagram.com/trashheadsuk The Ovines
If you like tasty guitar riffs, groovy bass lines and heavy beats then this is the band for you. Taking inspiration from the likes of RHCP, The Cure, Talking Heads and The Arctic Monkeys, these guys will get you on your feet.
Stream their single "Fire In A Meth Lab" on Spotify.
www.facebook.com/theovinesband
www.instagram.com/theovinesband
www.twitter.com/theovinesband Stage times: Follow The Hawk 9:45-10:30
Tailblock 9:00-9:30
Trash Heads 8:15-8:45
The Ovines 7:30-8:00 Doors open at 6:30 £3.50 in advance (at this link) or £5 on the door. https://forgottenmedia.yapsody.com/event/index/280521/sunday-service-follow-the-hawk-guest Let us pray.
Source: New Cross Inn website