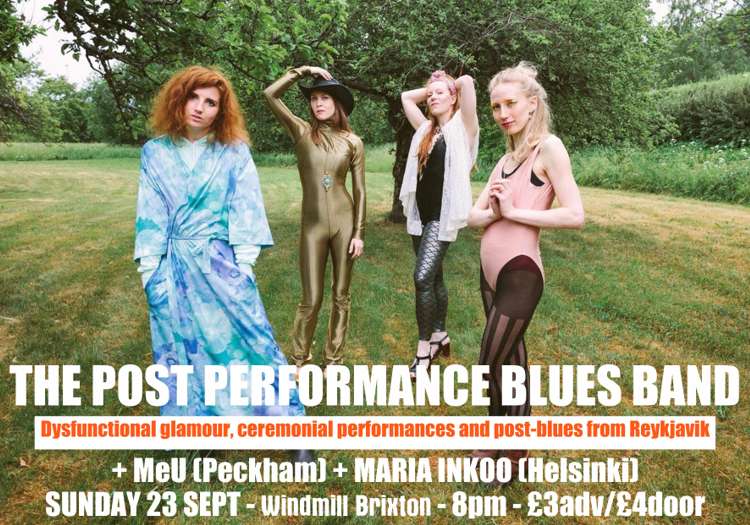 THE POST PERFORMANCE BLUES BAND (Reykjavík)
The Post Performance Blues Band is blue, it's a Bloody Mary, it's an anti-climax. They meet the end with their dysfunctional glamour, ceremonial performances and post-blues. They transform darkness into delight.
The PPBB was formed in Reykjavík in late 2016. They have become renowned for their ceremonial performances, raw glamour and blues post-blue.
"Gyrating to repetitive beats in animal-print spandex with wooden beams held across their shoulders, their performance was like the 12 stations of the cross happening inside an 80s aerobic exercise video (it is in fact called 'Crucifit'). " - Iceland Review
https://www.facebook.com/theppbb/
MeU
Band led by famed south London-via-Ireland-via-Connecicut raconteur and MC Mr Patrick Lyons, MeU explore the dark side of Americana, electronica and the human mind,
https://patricklyons.bandcamp.com/album/blue-temper-2
MARIA INKOO
Maria Inkoo is an ecofeminist pop punk band based in London and comprised of members from Finland, Poland, Hungary and Greece. Most of all a live band, somewhere between a gig and live art, using movement, spoken word, insane repetition, electric guitar, bass, drum machine etc.
https://www.facebook.com/maria.inkoo/
Stagetimes:
940 - The Post Performance Blues Band - nice'n'long set
840 - MeU
810 Maria Inkoo
Source: Windmill Brixton website