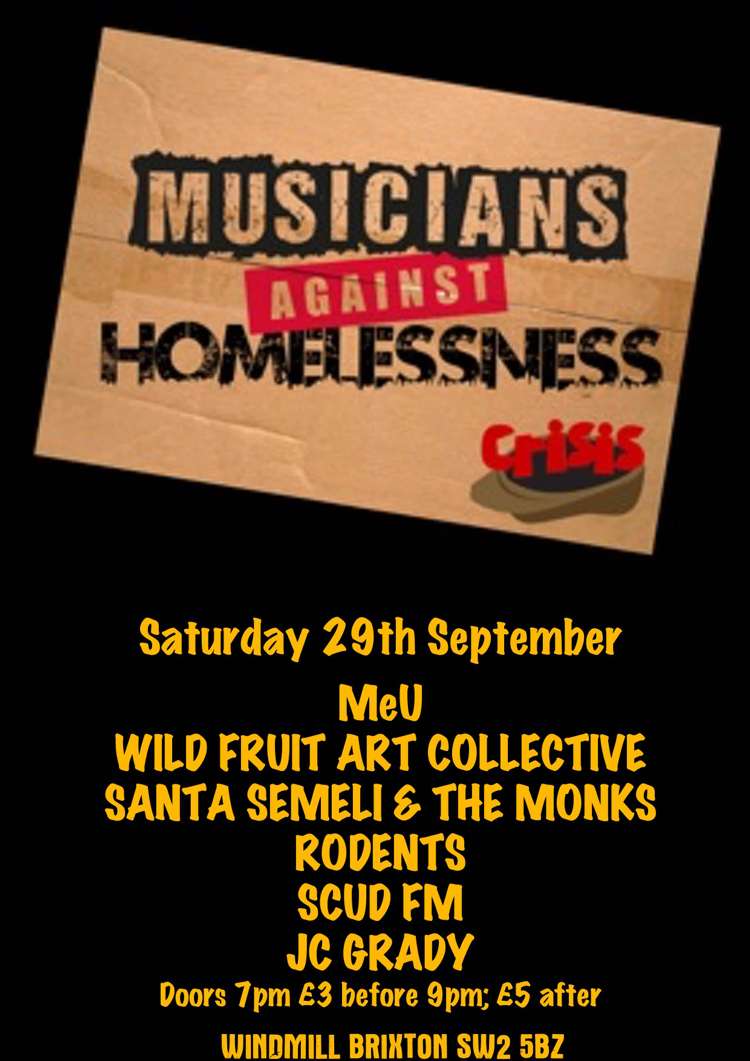 Musicians Against Homelessness- raising awareness about and money for the homelessness charity CRISIS.
MeU
Fresh from the release of their debut album, MeU is the vehicle for legendary south London MC and poet Patrick Lyons and his tight swampy band.
WILD FRUIT ART COLLECTIVE
"... a loose, musically anarchic band from Liverpool playing dark, slightly chaotic music. The band fill the venue they play with all encompassing sound. It is an immersive experience" - Louder Than War
https://www.facebook.com/WildFruitArtCollective/
SANTA SEMELI AND THE MONKS
Semeli's volcanic stage presence has been compared to the likes of Kate Bush, Liza Minnelli,Patti Smith, Rita Haywarth and Marlene Dietrich whilst her poetic versatility reminds a young Lou Reed.
https://www.facebook.com/santasemeliandthemonks/
RODENTS
Dischordant stoner pop from Chigwell via a garage up Lordship Lane.
https://www.facebook.com/Rodents-279930878822924/
SCUD FM
Zsa Zsa from Meatraffle's new trumpet, synth and guitar project.
"Bastard music for people lost in the system, locked in the mode of production of passivity and consumer culture. We also hate golf and flip flops." .
https://www.facebook.com/SCUD-FM-548164638902088/
JC GRADY
https://soundcloud.com/user-379177268
Source: Windmill Brixton website