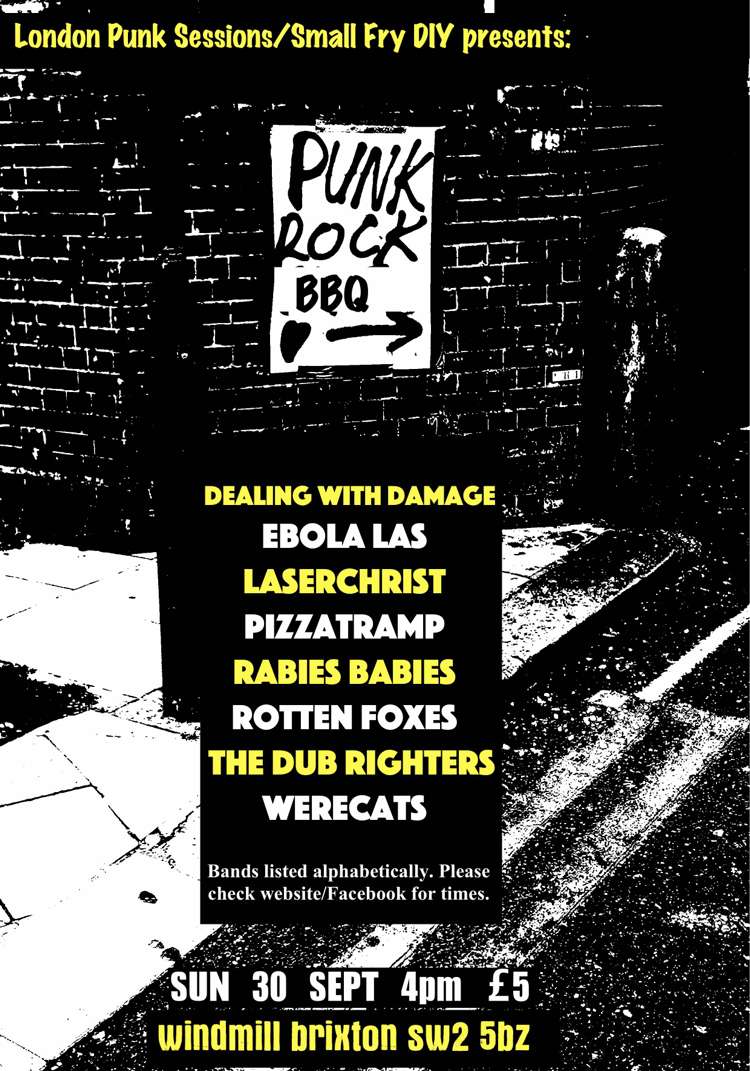 The penultimate Punk Rock BBQ of the season and this one promises to be HUGE!
South London punks WERECATS have also declared the day a release party for their debut album on Household Name Records.
Bands listed in alphabetical order. First band 5pm sharp; usually over by 9pm.
DEALING WITH DAMAGE
Punk band from London: James Sherry, Paul Grier, Rich Matthews & Ed Wenn.
https://www.facebook.com/dealingwithdamage/
EBOLA LA'S
Much like the fatal ebola virus; Ebola-la's brutal & contagious performance is renowned in both the underground punk and free-party scene.
https://ebola-las.bandcamp.com
LASERCHRIST
Straight outta Crofton! Leatherface and Iron Chic meet The Smashing Pumpkins and Pixies through the door of Kukundu... Featuring members/ex-members of paperjets, crash island, bat wings, lowprofile, the tubby wilsons, the trees, fruits & veggies and car boot vendors.
https://www.facebook.com/laserchrist/
PIZZATRAMP
Pizzatramp are a horrible three piece three chord old school skate thrash punk band from South Wales, specializing in two minute blasts of noise. With a rabid following, brand new EP and a thirst for beer they're ready to tear up a venue near you soon
https://pizzatramp.bandcamp.com/
https://www.facebook.com/Pizzatrampuk/
RABIES BABIES
Fun punk from east London. Laura throws the guitar around and shouts, Lorna screams and bashes the bass, Mike hits drums.
https://www.facebook.com/rabiesbabiespunk
ROTTEN FOXES
Brighton Hardcore/Death Punk
https://www.facebook.com/rottenfoxes/
https://rottenfoxes.bandcamp.com/releases
THE DUB RIGHTERS
Punks playing Reggae/Ska influenced by hip hop/soul/whatever else.
https://www.facebook.com/DubRighters/
https://anarchoticrecords.bandcamp.com/album/ep
WERECATS
From the mean streets of Peckham these cartoon characters of pop punk counted their kills and honed their skills previously in other bands including the legendary Girlscouts, The Pukes and The Murderburgers. Sickly sweet girly vocals and fun dumb garagey pop! Rumour in Punkland is that Pippa was recently voted London's Number One Party Girl. Rumour also has it that all of their songs were cleverly constructed by a dog named Rab.
https://www.facebook.com/werecatsband
Source: Windmill Brixton website