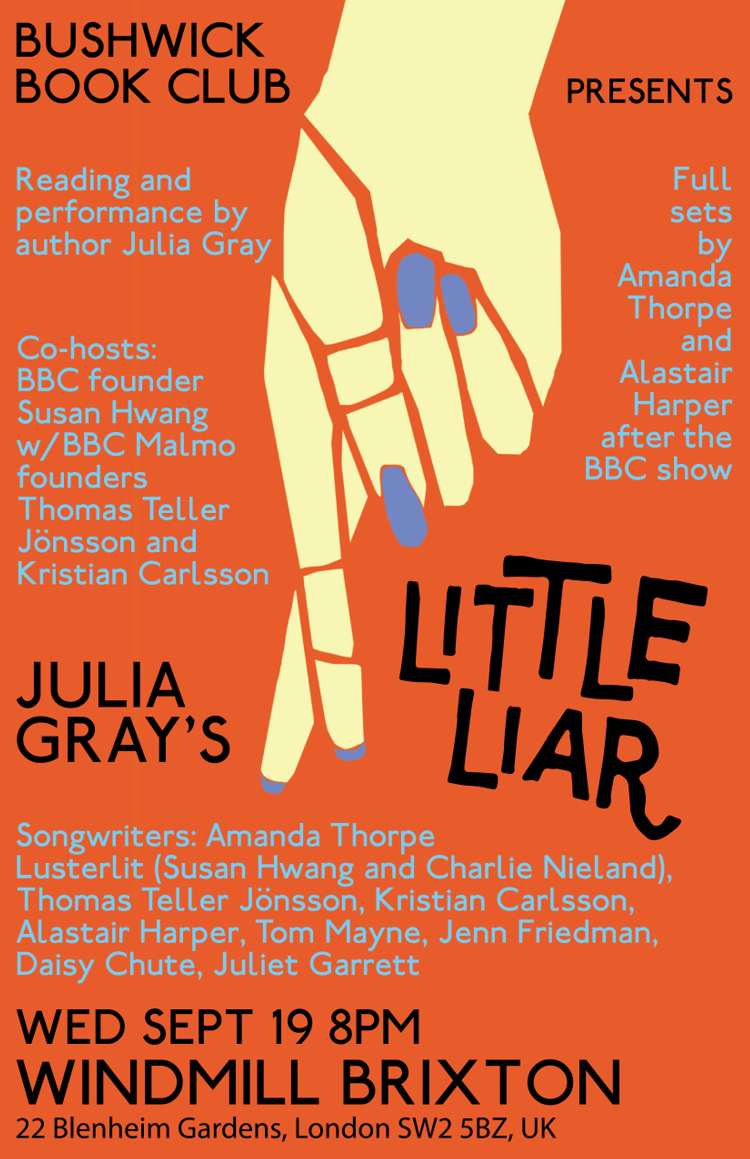 The Bushwick Book Club began in Brooklyn January 2009 on a dare. Songwriter and broadcaster Susan Hwang, dared Goodbye Blue Monday owner Steve Trimboli to let her have a night of new songs inspired by literature. He said, "Sure."
Seven years later she asked the Windmill to host the first Bushwick Book Club in London and we said "Sure". ​ The first club night focused on with Kurt Vonnegut's Breakfast of Champions and they now meet monthly employing the talents of local songwriters and artists who plumb the depths of a chosen literary gem to create that rare and beautiful thing – a new song (or visual art, dance, film or even a snack).
These literature-themed live shows have been inspired by everything from Raymond Carver to Charles Darwin to George R.R. Martin to the Thesaurus.
The Bushwick Book Club now has several branches all over the world, including Los Angeles, Seattle, Malmo, and Toronto, Canada, with new chapters developing in Europe.
The Bushwick Book Club Podcast was launched last year.
Bushwick Book Club kicks off their very first London show with new songs inspired by Julia Gray's latest YA psychological thriller, LITTLE LIAR. The author will also be in attendance to give a reading and a performance of songs from her five-song EP inspired by the book's main character.
There will be music from a variety of songwriters that will be performed in response to Gray's latest release.
Artists will include:
JULIA GRAY
London-based author and songwriter; her second novel LITLE LIAR was published by Andersen Press in June 2018. She's also written an EP called SONGS FOR NORA TOBIAS to go with the book
http://www.thisisjuliagray.com
https://www.facebook.com/thisisjuliagray/
LUSTERLIT (New York City)
Musical duo comprising Bushwick Book Club founder Susan Hwang and BBC songwriter/co-producer Charlie Nieland .
https://www.facebook.com/lusterlit/
AMANDA THORP
THOMAS TELLER & KRISTIAN CARLSSON (Bushwick Book Club Malmö founders)
TOM MAYNE (David Cronenberg's Wife)
JENN FRIEDMAN (Personal Bias Records
ALASTAIR HARPER
DAISY CHUTE
JULIET GARRETT
VIN GOODWIN
Source: Windmill Brixton website