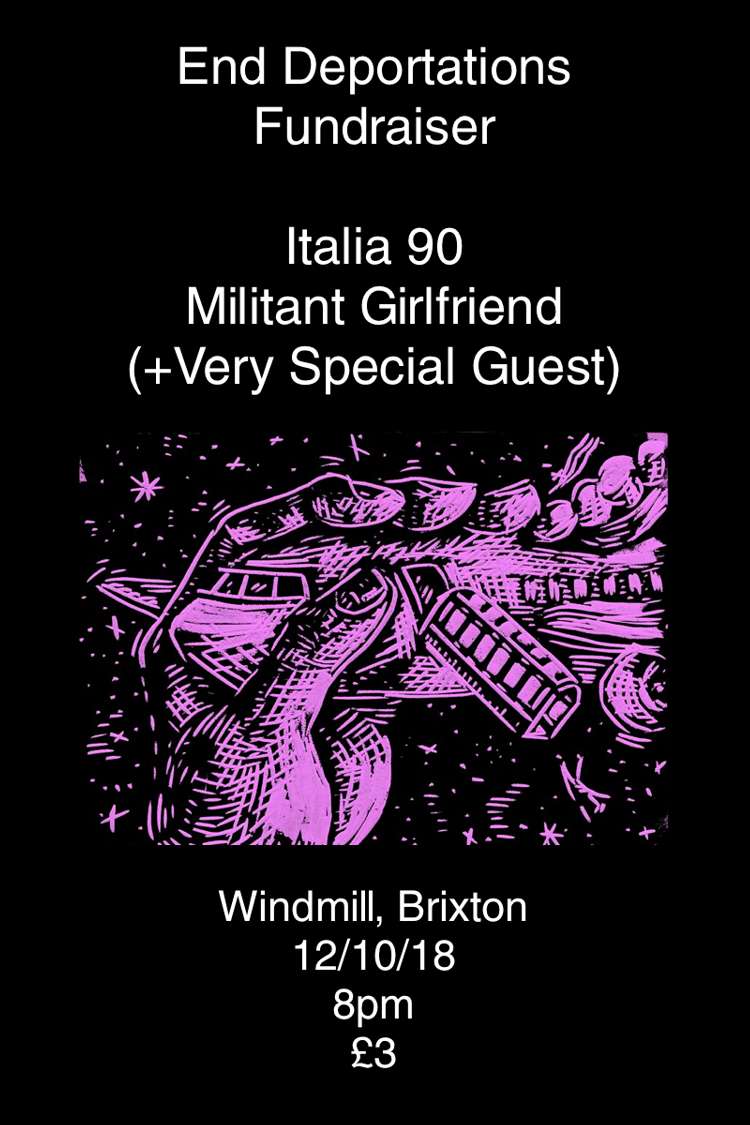 END DEPORTATIONS FUNDRAISER
Last year, 15 people grounded a deportation charter flight for ten hours to prevent it taking off. The individuals responsible for this non-violent direct action have been charged with terrrorism-related offences that could result in life imprisonment.
They were due to stand trial in March this year but after a series of agonising delays the trial was adjourned. On Monday October 1st the trial re-starts, and they need our solidarity again.
Join us for an evening at Windmill Brixton where we'll be raising money for all of the costs associated with a 6 week trial.
https://www.facebook.com/EDeportations/
ITALIA 90
"Very much rate this, and certainly don't think that Wire, Alternative TV, Sauna Youth and Institute's Catharsis LP are excessively flattering reference points." - The Quietus
https://www.facebook.com/italia90band/
MILITANT GIRLFRIEND
Militant Girlfriend are barmaids, best friends, and a queer as fuck pop punk band from South East London.
https://militantgirlfriend.bandcamp.com/
https://www.facebook.com/pg/MilitantGirlfriend/
SCROUNGE
...is Lucy and Luke plus a guitar, drums and a mic.
New single Etch comes out on 12th October on Fierce Panda.
"They're capable of juddering the socks off your feet, and rocking you quietly into a cry-sleep alike." DIY Magazine
https://www.facebook.com/helloscrounge/
MARK HEX
https://markhex.bandcamp.com/releases
Source: Windmill Brixton website