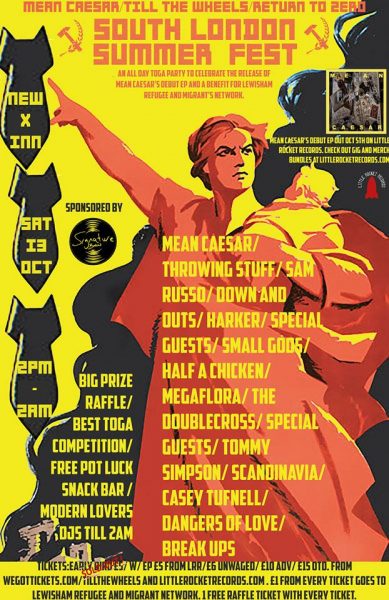 LISTEN/WATCH 'SOUTH LONDON SUMMER'
https://www.youtube.com/watch?time_continue=1&v=cLHfPu5Gp28 PRE-ORDER 'MEAN CAESAR'
https://meancaesarlrr.bandcamp.com/album/mean-caesar-e-p Come down and support our EP release show… This lineup is sick!!! Tap to reveal! TOGA PARTY FANCY DRESS! DJ Set- 1.30-2 Chunky DJ Set- 1-1.30 Jugs' Deep Bath DJ Set- 12.30-1 DJ Adam Dj Set- 11-12.30- Modern Lovers Club Night Main- 10.35-11.00- RAFFLE FOR THE WOMEN'S PROJECT LEWISHAM REFUGEE AND MIGRANT NETWORK Main-10.10-10.35- Mean Caesar Main-9.20-9.55 Throwing Stuff Downstairs Bar- 8.55-9.20 Sam Russo Main- 8.30-8.55 Down and Outs Downstairs Bar- 8.05- 8.30 The Doublecross Main- 7.40-8.05 Harker Downstairs bar- 7.15-7.40 Half A Chicken Main- 6.50-7.15 SMALL GODS Downstairs bar- 6.25- 6.50 Special Guest Main-6.00- 6.25 Megaflora Downstairs bar- 5.35- 6.00- Tommy Simpson Main- 5.10- 6.35 Special Guests Downstairs bar-4.45- 5.10 Casey Tufnell Main- 4.20- 4.45- SCANDINAVIA Main- 3.40- 4.05 Dangers Of Love Main- 3.00- 3.25 Break-ups £1 from every ticket goes to Lewisham Refugee and Migrant Network. There will be a raffle for Lewisham Refugee and Migrant Network. You get one ticket free with your entry price and you can buy more. Remember. There's a raffle ticket free with every ticket and you can buy more inside.
Prizes for the raffle:
£20 voucher for The Four Quarters.
£20 voucher for Sainsbury's.
Beer and a winemaking kit from Water Into Beer.
Crystal Head Vodka from The Fat Walrus, SE14.
LP and meet and greet with Alun Matthews from Throwing Stuff.
£10 voucher for Kirsty's Curios & Collectables.
4 gig tickets from New Cross Inn for any show booked in-house.
4 new chart DVD releases donated by BlackBerry.
A double bass lesson from Danny Tuinman.
More to be announced. We're going to have a table full of snacks. Bring more snacks. It's going to be a pot luck snack buffet! Tickets: £5 adv with a record- https://meancaesarlrr.bandcamp.com/album/mean-caesar-e-p
£5 Early Bird SOLD OUT!
£10 advance alone- https://www.wegottickets.com/event/447795
£6 unwaged- https://www.wegottickets.com/event/447796
£15 on the door. ACCESSIBILITY INFO:
Here at New Cross Inn we are working with the organisation Attitude is Everything, striving to improve the live music experience for all of our customers, encouraging inclusivity and equality. If you have any access requirements or questions that are not answered below, please contact us on info@newcrossinn.com VENUE ACCESS Level access from the main entrance to the performance space and bar
We have an accessible toilet in the venue. This is kept locked to ensure it remains usable for customers that need it. Please ask at the bar if you require a key for access.
Lowered section of the bar for wheelchair users
We offer a personal assistant / companion ticket for any deaf or disabled customers who would not be able to attend an event here without one. This does not require prior reservation, but please alert the box office staff when you arrive.
We can set up a viewing area to the side of the stage on request. Please let us know if you'd like to make use of this when booking a ticket.
TRANSPORT BY CAR There is plenty of free street parking in the roads around the venue but as New Cross is in a busy, central location but we cannot guarantee availability and do recommend that you take public transport if possible as this will likely reduce your journey time. For Blue Badge holders there are bays available on Clifton Rise, adjacent to the venue. PUBLIC TRANSPORT We are approximately 200m from New Cross Gate tube & rail station and approximately 500m from New Cross tube & rail station. London buses: 21, 36, 53, 136, 171, 172, 177, 225, 321, 343, 436, 453 & P13 – all stop within 100m of the venue TAXI / DROP OFF Taxis and other vehicles will be able to drop off and pick up customers from Clifton Rise, directly outside the venue entrance. ALTERNATIVE FORMATS If you would like venue information in alternative formats please request it by emailing info@newcrossinn.com Drink menus are displayed in large print on chalk boards around the bar.
Source: New Cross Inn website