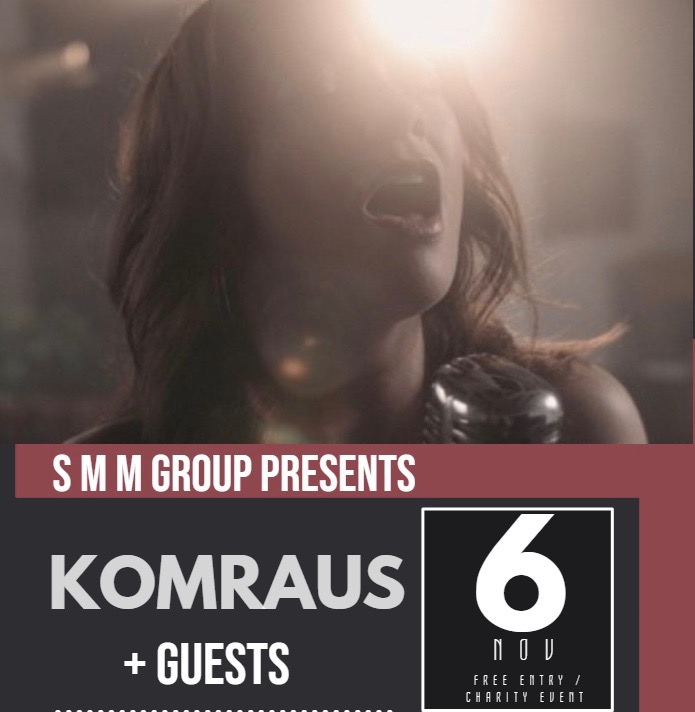 KOMRAUS and S M M group organise this event to raise funds for CEAR (the Spanish Comission Helping Refugees) and in particular for the LGBT refugees that suffer intorable situations.
+ Guest Acts: Lili Caseley
FREE Entry- all donations directly to CEAR.
Komraus will release five days before their second single with M.A.R.S. Label Group, titled 'Untie the ropes'. This song empowers freedom and being yourself with no fear. So it will be the song that marks the beginning of the collaboration between KOMRAUS and CEAR.
Album to be released in Jan 2019 after a successful year of London headlines shows and International touring.
www.komraus.com
https://www.cear.es/
Guest Acts:
Lili Caseley:
Hailing from North London, Lili Caseley is a multi-talented singer and songwriter who's winning the hearts of fans and critics alike with her meaningful soul pop about lovers and experiences, past and present. Her songs, deceptively simple in structure but teeming with emotional honesty, are influenced by her Portuguese heritage, legendary poets and the biggest pop talents of today.
Yet to release her debut EP, she's already won support from respected music titles like Clash and Notion, while receiving coveted airplay from Radio 1xtra's Toddla T on Target's show and Radio 6's Tom Robinson, on his BBC Introducing mixtape show.
www.lilicaseley.com
More Acts and DJ's TBC will also support the cause and play on the night, making this event a very especial one for everyone.
This will be a FREE event and all donations will be directly passed to CEAR. The non-for profit organization that is doing a remarkable work for the last 35 years in Spain, that has been welcoming refugees for over years.
Doors will open at 7 pm.
Some of the best and hottest Acts will play Live supporting the cause.
RSVP at https://www.facebook.com/events/329694057836555/
Source: The Victoria website