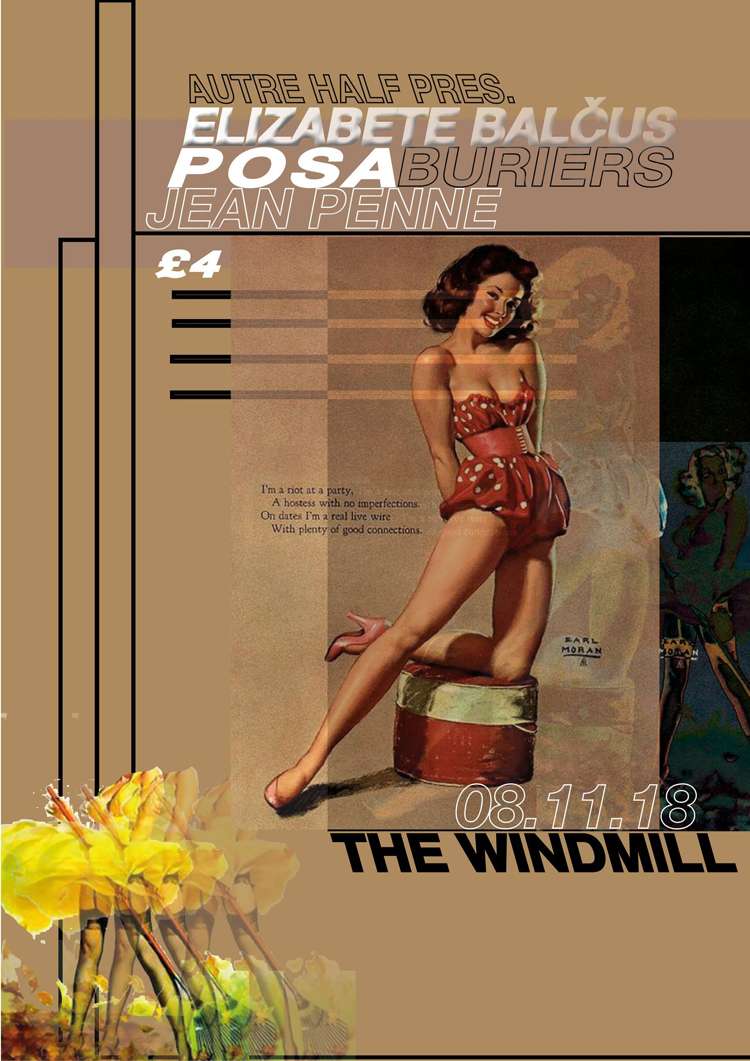 AUTRE HALF presents of a night of the experimental at Windmill Brixton.
With Live Music From:
*CLAIRE WELLS *
Mersey pop princess who makes music in between playing darts. The music is created as the soundtrack for the collapse of the Bootle Trade Centre; her discography shows a slow morphing from avant-garde and lo-fi pop to something far shinier. Claire identifies Todd as God.
https://clairewelles.bandcamp.com
BURIERS
An obscure cult from London fronted by poet James P Honey woven together with droning strings and hefty drums. These elements combined create a mesmerising, haunting and all encompassing musical experience. 'The Lyrical Power of a Nose Splitting Head butt'. - Gold Flake Paint 'Raw, Vital ... real' - Clash Magazine
https://www.buriers.co.uk/bandcamp/
https://www.facebook.com/buriers/
*POSA *
Fresh from debut UK joint tour with MOLD, POSA are powerful and must be experienced live. With twangs of influences woven throughout their set, such as The Residents, The Birthday Party and Lil B, they are a force to be reckoned with. 'POSA's new single, 'What About Long John' takes creative chaos to the next level, not just playing those instruments but pummelling them, creating a multi-layered mash-up which shoves two fingers (and then some) in the face of flacid alt-rock releases which seem all-too-common now. Hello, interesting.' - Louder Than War Magazine
https://doyourbest.bandcamp.com/
https://www.facebook.com/posaband/
*Mathilde Bataillé *
French singer-songwriter Mathilde Bataillé's music is intimate and beguiling, combining meandering guitar with heartfelt vocals and homespun electronics. Taking cues from the likes of Jeff Buckley, Patti Smith and the French chanson, her live shows resonate with introspection and a grander emotional catharsis. https://mathildebataille.bandcamp.com
JEAN PENNE
Humour, controversy and love stories involving a bureau de change and wet toes come together alongside a hum of keys to create the character that is known and loved as Jean Penne.
https://jeanpenne.bandcamp.com/
https://www.facebook.com/JeanPenneOfficial/
Source: Windmill Brixton website