Saturday 10th November 2018 - 9pm - 3am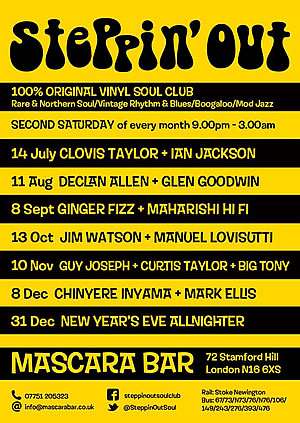 November's Steppin' Out features a trio of top DJs kickin' up a rumpus: Guy Joseph (Ham Yard Soul Stew) + Curtis Taylor (The Shakeup) + Tom Hall (aka Big Tony). Tuneage to fry your wigs!
Original Vinyl Only Northern Soul, Rhythm & Blues, Motown, Boogaloo, Mod Jazz - killers n floor fillers from the off - more of a good sounding time than the law permits.
You know the drill - Mascara Bar - "finest little honky in Hackney". Wild, friendly, late night, regular pub prices, great sound, free admission. A neat treat for dancin' feet - ain't no better place to show your pretty face!
FREE ENTRY
Source: Mascara Bar website