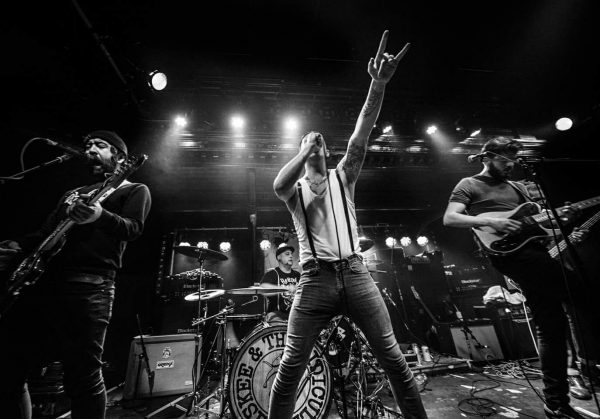 A Be Sharp Promotions Joint
£6 adv (tickets on sale in the morning coz I gotta shoot off to a meeting innit) Riskee and the Ridicule
http://www.riskeeandtheridicule.com/ "All of the time that you're wanting more and more – whether it's money, recognition or fame – you're never really truly enjoying the moment that you're in. Right now, we don't have anyone telling us what to do and that's priceless. The moment is ours."Riskee and The Ridicule offer a tour-de-force of politics, protest and punk that rests amongst motives of The Clash and Minor Threat. Relentless streams of wit, literacy and observational accuracy in the lyricism to parallel The Smiths and the Grime scene, and a barrage of hooks seeped in a heavy cloak that evoke the likes of Gallows and Refused; every member's influence is allowed to coexist on record and on stage amidst the genuine and raw energy. Goodbye Blue Monday
https://goodbye-blue-monday-1.bandcamp.com/ Goodbye Blue Monday are an emerging melodic punk rock band from Glasgow, Scotland. Formed in late 2013, the band playing infectious and invigorating melodic punk rock, influenced by the likes of Iron Chic/Dead To Me/The Menzingers, with a characteristic Scottish cadence akin to The X-Certs/Twin Atlantic. With a depth of songwriting and maturity beyond their tender years, Goodbye Blue Monday are one of the more exciting new Scottish punk bands to emerge in recent years. The Riot Gang
https://theriotgang.bandcamp.com/ Punk-rock band from Northen Russian city St.Petersburg. Playing shows since 2006. Touring all over the Russia and Europe.
Source: New Cross Inn website