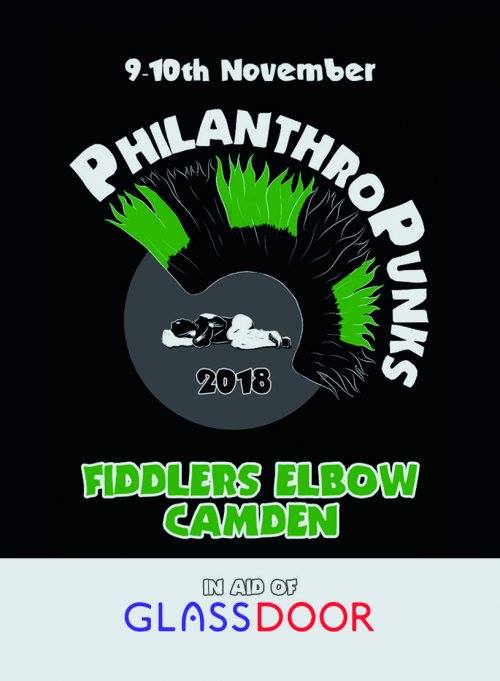 It's back!

PhilanthroPunks 2018 returns on Friday November 9th and Saturday November 10th at the Fiddlers Elbow! We've got a cracking line-up this year again! Every penny goes to Glass Door Homeless Charity - this awesome charity does some incredible work for some of the more vulnerable and often most forgotten people in our society, and PhilanthroPunks is happy to be organizing this gig in aid of them. From early September onwards, if you pop into Black Cat, The Larder, Bethnal Green, London, Cookies and Scream, Young Vegans and Vx, you'll see a Glass Door charity box with a PhilanthroPunks sticker on it. We wanna say a massive thanks to the shops for allowing us to stick a box in there over Sept and Oct and if you have some change then chuck it in!

Once again this year all the money from the ticket sales goes straight to the charity and you can buy your tickets at the link below. We also have a donate button below this post where you can donate anything you'd like to Glass Door to help them with their amazing work!

Ticket on sale NOW! https://www.ticketsource.co.uk/philanthropunks

#thescuts #matildasscoundrels #thedrunkenramblings #danpeters#grave #emergencybitter #resuscitators #whatdidyouexpect #thehalfwits#longknives #snapout #ashlewis #kearneysjig #playgroundcircus#kilburnbombsquad #scrotumclamp #spoilers #fiddlerselbow #camden#glassdoorhomelesscharity #philanthropunks2018 #fighthomelessness#homeless #punk #punkrock #livemusic #gig #londonpunk

FRIDAY
Matilda's Scoundrels
Emergency Bitter
Resuscitators
Dog Rotten
RxR


SATURDAY
Spoilers
SCROTUM CLAMP
The Drunken Ramblings
The Scuts
Kilburn Bomb Squad
Playground Circus
Kearney's Jig
Ash Lewis
Snap Out
The Long Knives
The Half-Wits
What Did You Expect?
Source: The Fiddler's Elbow website