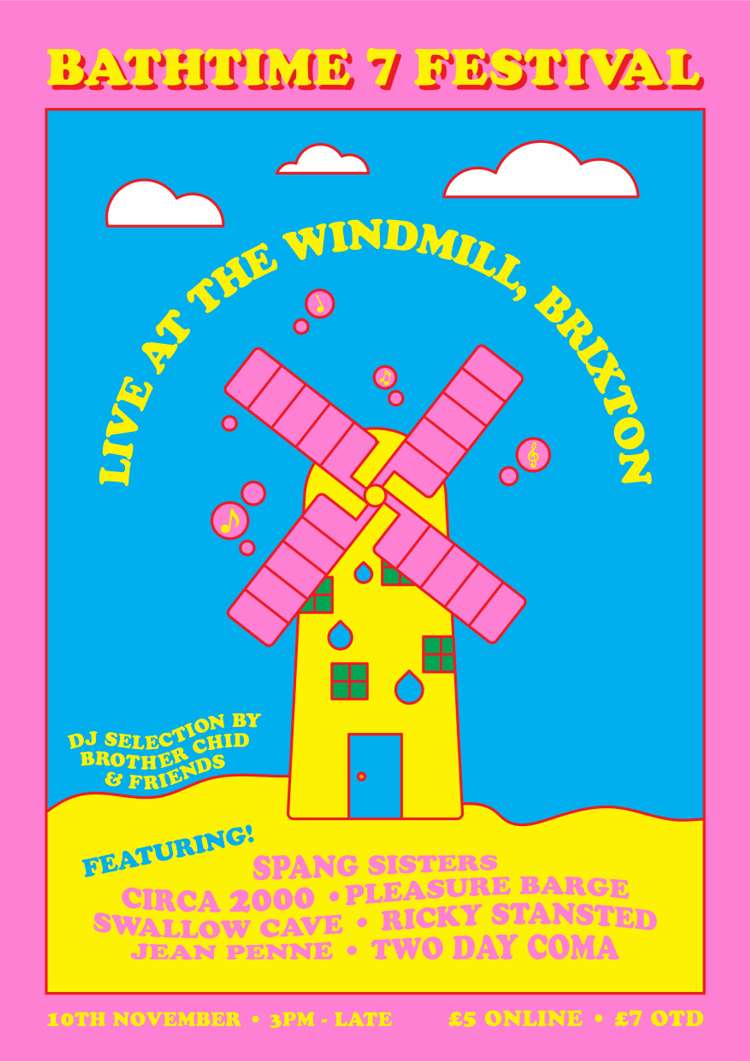 Here it is -another family affair at Windmill Brixton.
All day.
Meticulously chosen live music and spun riddims to guaruntee good times.
~ Spang Sisters ~
The Spangs return to Bathtime and play their first London date in over half a year. Arise from your foggy slumber and rejoice in pure hedonism.
https://www.facebook.com/spangsisters/
https://open.spotify.com/artist/55LV0taR11yxOICTZORibT?si=quan07HNSrm4U08E-klENw
~ CIRCA 2000 ~
A dear friend of Bathtime, William Wiffen dropped his first album 'Thoughts in Vias' under the pseudonym, 'CIRCA2000'. "A real homage to those early motorik records, arpeggios and sequenced rhythms aplenty. He glides through five tracks of Tangerine Dream/Cluster influenced electronics that also seem to draw from that Prins Thomas space disco sound... Pretty solid first album to our ears!" - Bleep.com
https://www.facebook.com/circatwothousand/
https://open.spotify.com/album/2zdEAr8bOD9JpLQuHjO7VS?si=L8wLgfqnS1Sc3367aGj7jA
~ Pleasure Barge ~
These dudes have garnered a cult following owing to their fast-funk playing and loud personalities. Pleasure Barge are true innovators which they epitomise in their Madchester-inspired live shows they have become notorious for.With much more due in the pipeline, these next-gen psych rockers will be the ones to watch in 2019. Their newest single, Electric Ride, is out now.
https://www.facebook.com/therealbarge/
~ Swallow Cave ~
The sound of hot butter being poured through a vast stalagmitic pit cave. Their precocious first EP is one to fall in love with immediately. It pays homage to the likes of Captain Beefheart and Lou Reed. These three ladies will be doing their first London show for Bathtime so its not one to miss.
https://www.facebook.com/swallowcave/
https://soundcloud.com/swallowcave/sets/the-shoe-demos-1
~ Ricky Stansted ~
The dirty brainchild of rapper Sigmund/sister in Spang, Frank Lindsay. Ricky delivers beautifully written pop songs with more grit than glitter . I love this band
https://soundcloud.com/ricky-stansted
https://www.youtube.com/watch?v=sBRF2VnptcY
~ Jean Penne ~
The simultaneous voice of working-class disdain and middle-class paranoia, Jean Penne is a fresh talent who perform a most peculiar and wonderful show. What you will see are two men in druid attire, equipped with keyboards, accompanying the spoken word of Jean Penne - a fallen prophet dressed in shine and panty liner.
https://www.facebook.com/JeanPenneOfficial/
https://www.youtube.com/watch?v=ATwVuOKc9nw
~ two day coma ~
They play an arresting mix of British indie: blending confessional songwriting with delicate harmony and deep instrumentation. Their songs float between stripped-back intimacy and sweeping, memorable refrains, all with a taste for the cinematic.
https://www.facebook.com/twodaycoma/
ALL DAY DJ SELECTION FROM RACHID AND ROB ~~~~~
PRICE: £5 / £7 OTD
Source: Windmill Brixton website