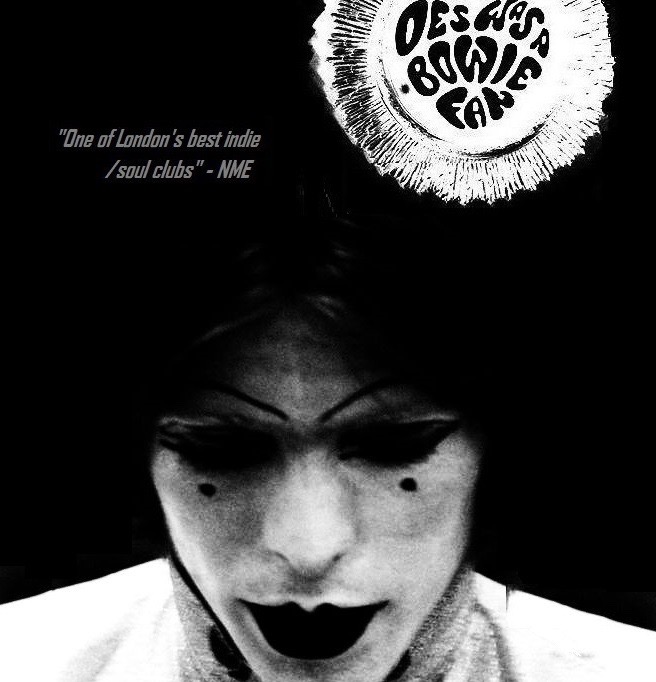 The next Des Was A Bowie Fan at the Victoria is on Saturday November 24th, indiepop, new wave, disco, post-punk and Northern Soul dancing till 2am round Queensbridge Road.
The musical poet of the red rose country will be in London on this particular night, spinning yarns on his Luckiest Man Alive tour at the grand old London Palladium. We shall thus make it a special night on the dancefloor, the songs of John Cooper Clarke written into the mix, making it indiepop, new wave, disco, Northern Soul and post-punk poetic observation till the milkman's bottles rattle round Queensbridge Road.
There will also be a big dose of the Pop that surrounded Clarke as he sprang forth in the late '70s and early '80s, from Elvis Costello through The Fall to New Order, Joy Division and The Buzzcocks, and a few belters from the crack lyrical hands of Half Man Half Biscuit. Maybe some room for some Ivor Cutler too.
You only live twice.
Entry: £4 / £6
Cheaplist: Members / Names to deswasabowiefan@gmail.com
Advance tickets: http://www.wegottickets.com/event/454860
"One of London's best indie / soul clubs" – New Musical Express
"A post-Peel, post indie market-place discotheque in the spirit of the pirates, fags and runaways" – Llewelyn Bowen
Expect to hear: ♥ JCC * Joy Division * Dexys Midnight Runners * Pulp * Belle and Sebastian * Brigitte Bardot * David Bowie * The Smiths * Serge Gainsbourg * Elvis Costello * Suede * Soft Cell * The Ramones * The Ronettes * Veronica Falls * The Shangri-Las * Aretha Franklin * The Temptations * T-Rex * Blondie * The Supremes * Half Man Half Biscuit * Le Tigre * Little Richard * Los Campesinos! * The Fall * The Cure * The Field Mice * Camera Obscura * The Pastels * Prefrab Sprout * The Buzzcocks * Johnny Cash * Jackie Wilson * Talking Heads * Hefner * Joyride * Martha and the Vandellas * Magnetic Fields * Makthaverskan * The Beach Boys * Pet Shop Boys * Art Brut * The Stammer * Dusty Springfield * Depeche Mode * Dream Wife * Broder Daniel * Rita Pavone * New Order * Jens Lekman * Jonathan Richman * Jesus and Mary Chain * Candi Staton * Chemtrails * Westkust * Kim Weston * Sonic Youth * Slowdive * Flowers * The Four Tops * The Flirtations * Ritchie Valens * Gloria Jones * Meilyr Jones * Shirley Ellis * The Indelicaes * Shakin' Stevens * Ivor Cutler * The Velvet Underground ♥
RSVP at https://www.facebook.com/events/495391447618922/
Source: The Victoria website