Friday 7th December 2018 - 9pm - 3am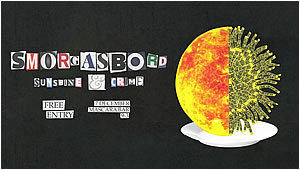 Fresh off the back of celebrating ten years since the beginning of the end, join us in paying homage to two completely disparate themes with some completely disparate songs and sounds. IT'LL BE GREAT.
SMORGASBORD
SUNSHINE & CRIME
FRIDAY 7TH DECEMBER
MASCARA BAR STOKE NEWINGTON
9-3
FREE ENTRY
☀️☠️☀️☠️ THEMES ARE TO BE CHANNELED, DISCUSSED, AND REPRESENTED CREATIVELY, INTELLECTUALLY AND OR HUMOROUSLY, NOT HARMFULLY ☀️☠️☀️☠️
First Course (served 9-11)
SUNSHINE
Featuring songs and sounds inspired by our main source of energy, the centre of our universe: the sun. All bow down, and come get some much needed Vitamin D.
Second Course (served 11-1)
CRIME
Taking a much needed darker turn, come celebrate crime in all shapes and sizes. Violent crimes, petty crimes, crimes of passion, etc. DO NOT COMMIT ANY ACTUAL CRIMES EVER, BUT ESPECIALLY NOT AT THIS NIGHT.
Third Course (served 1-3)
NOW THAT'S WHAT I CALL SMORGASBORD
No themes, no limits, no bullshit, just full on bangers.
PERFORMANCES TO BE ANNOUNCED
ART TO BE ANNOUNCED
SURPRISES WON'T BE ANNOUNCED SO BE PREPARED
The following may or may not be played
ABBA & Aretha Franklin & The Associates & Britney Spears & Buzzcocks & Bjork & Carly Rae Jepson & Chic & Chuck Berry & Charli XCX & Daft Punk & Donna Summer & Eurythmics & Fever Ray & Fleetwood Mac & The Fall & FKA Twigs & GFOTY & Grace Jones & Hot Chip & J Lo & Joy Division & Kate Bush & Kelela & Le1f & Lady Gaga & Missy Elliot & Modern Lovers & MIA & Mozart & Nelly Furtado & Peaches & Pet Shop Boys & Prodigy & Robyn & Robert Wyatt & Sleigh Bells & SOPHIE & The Sound & Simon and Garfunkel & Swan Arcade & TLC & Years and Years
FREE ENTRY
Source: Mascara Bar website