Monday 31st December 2018 - 9pm - 5am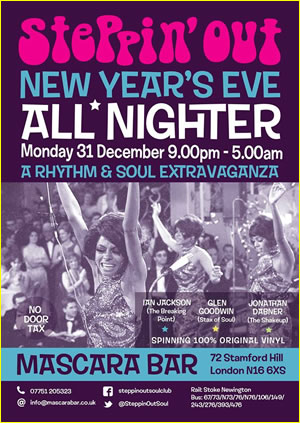 Year 6 of the Mascara Bar's NYE Northern Soul Allnighter! Originally under the auspices of Dugout Soul Club now Steppin' Out, it's the 3rd year the DJ team of Ian Jackson, Glen Goodwin & Jonathan Dabner have spun 8 solid hours of deep soul dance tunes right through the time barrier!
Ace selecters spinning Rare, Northern & 60's Soul, Rhythm & Blues, Motown, Boogaloo, Mod Jazz, Ska.... 100% original vinyl - straight up!
Don't get no better - the free admission policy holds + strictly no NYE bar price-hike! Ain't no comparison - nowhere - no way! This party is exceptional fun. Blow ya freakin' brains into the stratosphere of 2019!!
Time Travel:
More night buses than you can shake a stick at!
Rail: Stoke Newington
Bus: 67/73/N73/76/N76/106/149/243/276/393/476
FREE ENTRY
Source: Mascara Bar website