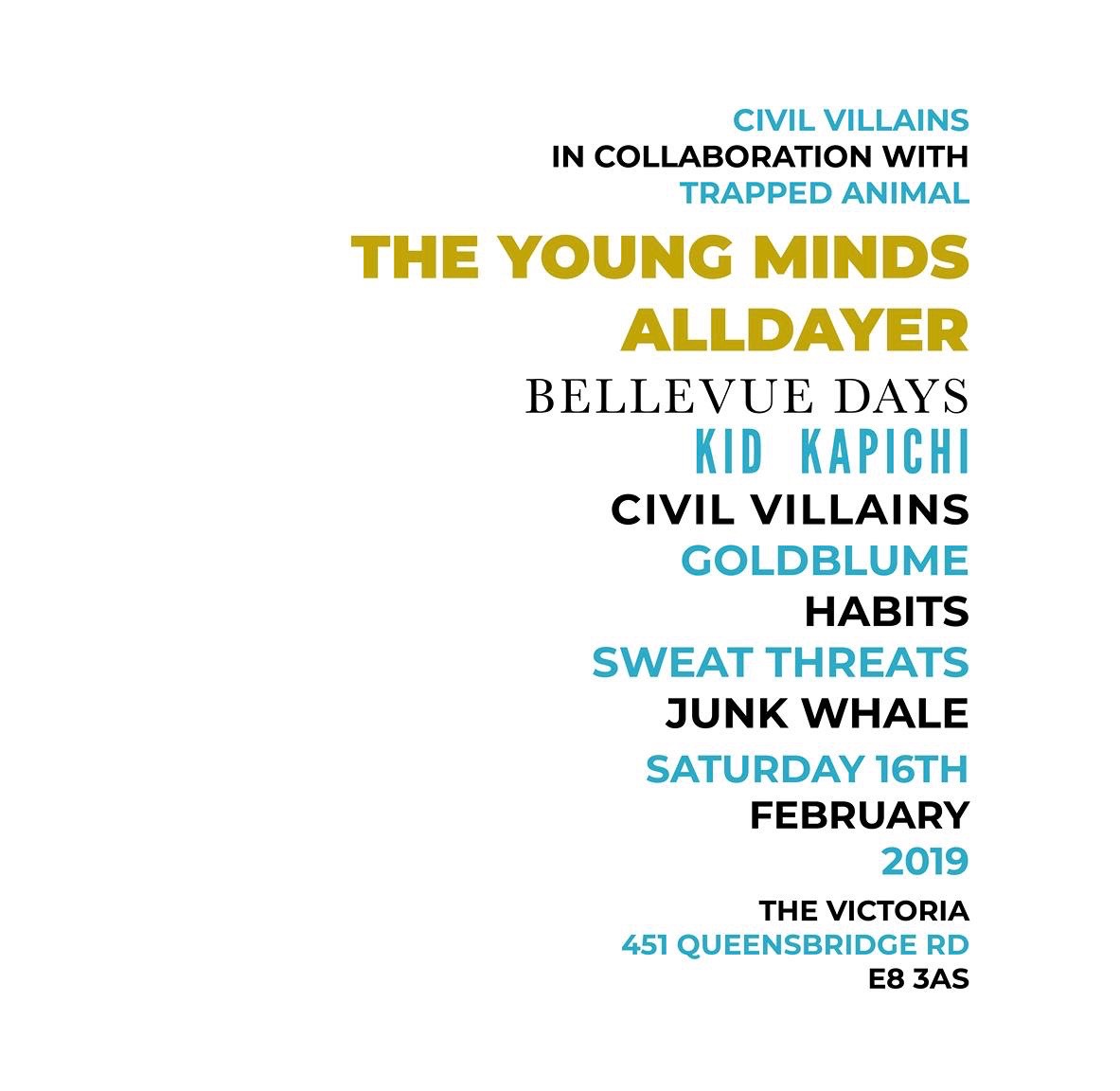 Civil Villains and Trapped Animal have come together to arrange this day of beautiful music, all to raise money for Young Minds, a charity that works in mental health in adolescents.
The Victoria Dalston, 4pm, Saturday 16th February.
LINE UP
BELLEVUE DAYS
These self-proclaimed sludge-poppers have been writing bigger and better searing rock for several years now, turning heads and piquing interest everywhere they go.
"Probably my favourite band in the whole world" – Alex Baker – Kerrang
https://www.facebook.com/BellevueDays/
KID KAPICHI
These indie rockers blend heavy, incendiary rock with harmonising vocals and cutting lyrics.
"With a libs-esque front line of twin songwriters Ben Beetham and Jack Wilson, this unsigned band won't remain that way for long." – NME
https://www.facebook.com/KidKapichi/
CIVIL VILLAINS
Blending math tendencies with groove and swagger, Civil Villains pull meaning from mayhem.
"Civil Villains are, in all the best ways, oxymoronic. Balancing noisy, complicated (albeit incredibly fun) songs, with a witty charm, Civil Villains make for a great show." Gigslutz, 2018
https://www.facebook.com/pg/civilvillainsband/
GOLDBLUME
They call themselves math grunge wizards, but also an emotional band. This is an accurate description, and it's a wonder to behold.
"'Husk' is an interesting, cohesive record of peaks and troughs" – Already Heard
https://www.facebook.com/goldblumeband/
HABITS
Welsh punks who take no prisoners, Habits are making waves in the punk scene, and threatening to tear right out of it.
"I listened to HABITS and I fell in love with them basically immediately, they're a punk band who are doing punk like nobody else are doing punk right now." – Alex Baker, Kerrang
https://www.facebook.com/habitsisaband/
SWEAT THREATS
Describing themselves as 'post-punk-party-music', Sweat Threats are a noisy three piece with a huge amount of energy on stage, snarling through riffs and tearing through ear drums like you wouldn't believe.
"Sweat Threats combine adrenaline and abrasive noise to create the perfect tunes to head thrash to." – Gigslutz, 2018
https://www.facebook.com/sweatthreats/
JUNK WHALE
Junk Whale sound like four people arguing over whether Pixies or the Breeders are the better band, and we can't think of a better way to start this day of music.
https://www.facebook.com/JunkWhale/
RSVP at: https://www.facebook.com/events/352723355555297/
Source: The Victoria website