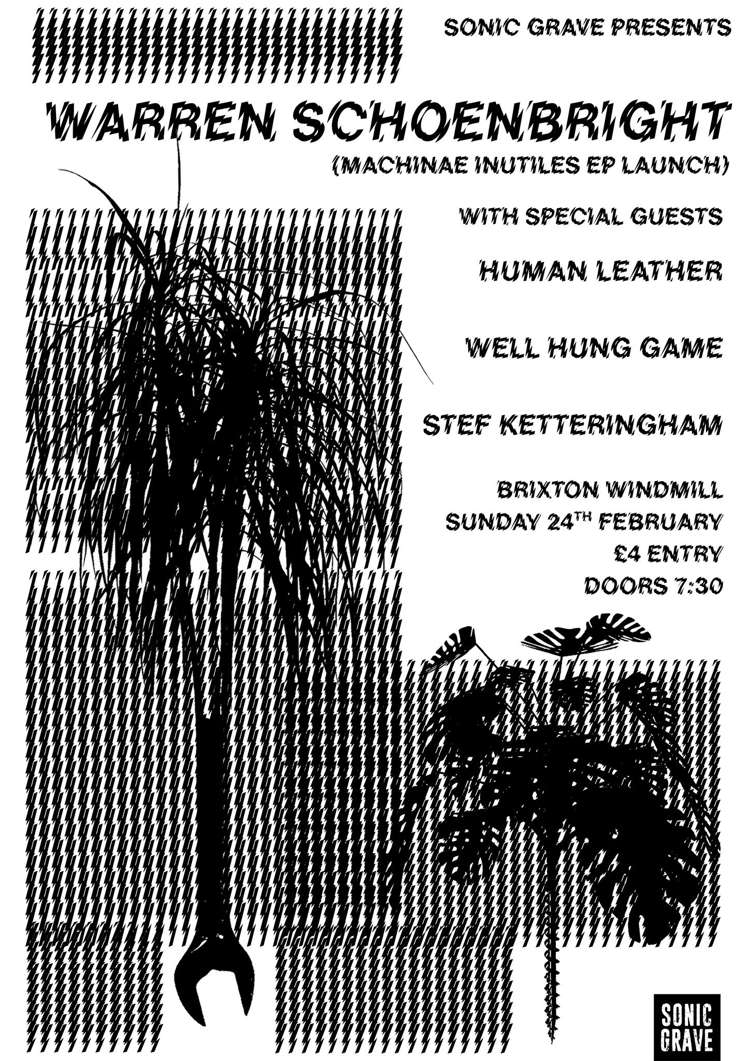 WARREN SCHOENBRIGHT
Somewhere between Casper Brötzmann Massaker, Sunn0))) and a fatal industrial accident, the trio's latest, Astral noize released, EP – Machine Inutiles – is one of the best things we've heard all year, and we're delighted to be helping them launch it. Ear defenders and stern constitutions recommended.
https://warrenschoenbright.bandcamp.com/
https://www.facebook.com/warrenschoenbright/
HUMAN LEATHER
Bass and drum grind-punk insanity from Brighton. Think Lightning Bolt covering The Locust. Backwards. At the wrong speed.
https://humanleather.bandcamp.com/
https://www.facebook.com/humanleatherband/
WELL HUNG GAME
Members of Sly & The Family Drone utilising a saxophone, harsh-noise, piercing waves of static and endless drones to create the sonic equivalent of a Buckfast hangover.
https://www.facebook.com/wellhunggame/
STEF KETTERINGHAM
Wonky yet captivating electro/acoustic guitar experimentation. Something like if Robert Johnson had started taking DMT instead of selling his soul.
https://crowversuscrow.bandcamp.com/
https://www.facebook.com/stefketteringham/
Sonic Grave DJs until late
Source: Windmill Brixton website