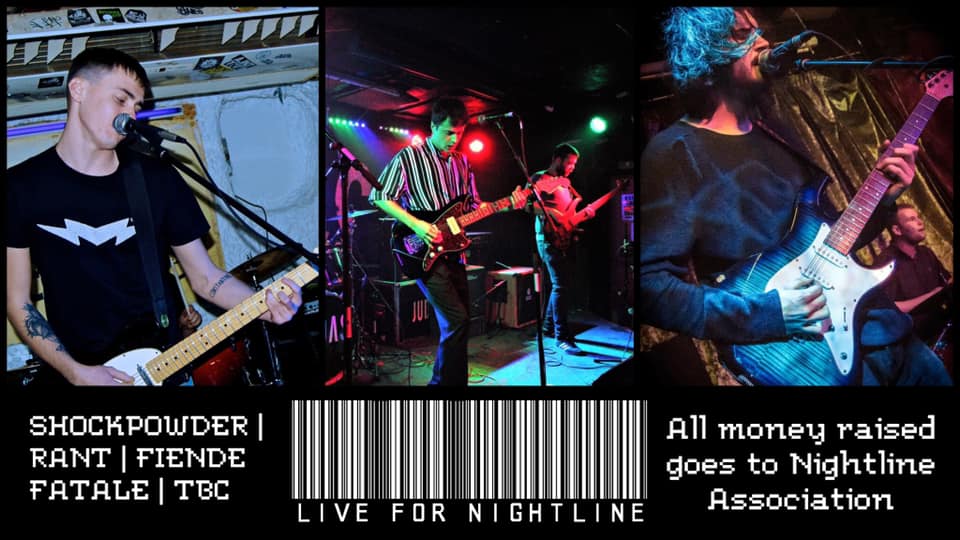 | LIVE For Nightline |
Fiende Fatale / RANT / Shockpowder

Join Fiende Fatale, RANT and Shockpowder for a night of music to raise funds for London Nightline.

Tickets are just £5 and all money raised will go straight to The Nightline Association.

THE CHARITY

Nightline are a confidential listening, support and practical information services for students in London and beyond. Ran exclusively by student volunteers, London Nightline answers calls from 6pm-8am every night of term.

THE BANDS

Shockpowder
Combining black metal and shoegaze in indie form.

RANT
shambolic post/punk noise birthed by a West London three-piece

Fiende Fatale
We play music. The words to our songs are clever. When we play live people clap. It's going quite well.

More acts and set times TBC

DATE - MONDAY 25TH FEBRUARY 2019
LOCATION - FIDDLER'S ELBOW, CAMDEN

VOLUNTEERING
We need volunteers for the night! If you would like to help collect donations on the night please get in touch.

For more information on finding your local Nightline
Visit: https://www.nightline.ac.uk/about-nightlines/
To contact London Nightline
Phone: (+44) 207 631 0101
Email: listening@nightline.org.uk
Skype Phone: londonnightline

Event funded by Campus Group.
Event organised by Ed Donald, please private message for any enquiries.
Source: The Fiddler's Elbow website