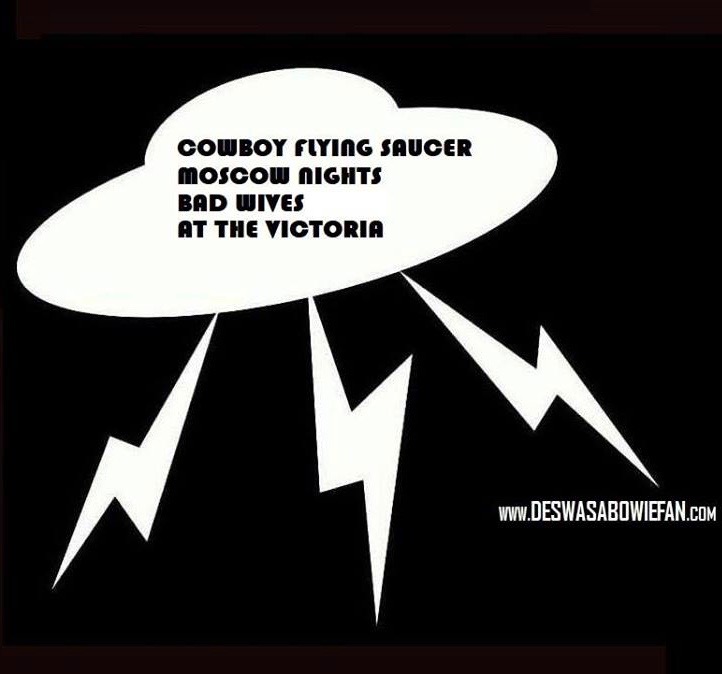 The next Des Was A Bowie Fan is on Saturday March 30th at the Victoria – featuring indiepop, new wave, post-punk, Northern Soul and rock'n'roll `as always.
Dusty Springfield to David Bowie
The Shangri-Las to The Smiths
Betty Wright to Blondie
Brigitte Bardot to Belle and Sebastian
The Four Tops to Flowers
Elvis Presley to Elvis Costello
10pm till 2am. Dancers old, young and timeless are welcome.
Early requests for the night to deswasabowiefan@gmail.com
"One of London's best indie soul clubs" – NME
"Some incredibly banging tunes" – Chemtrails
Entry: £6 / £5, advance tickets available at https://bit.ly/2EMcJAE
Expect to hear: ♥ Dexys Midnight Runners * Pulp * Belle and Sebastian * Brigitte Bardot * Blondie * The Smiths * Serge Gainsbourg * Suede * The Ramones * The Ronettes * The Shangri-Las * Aretha Franklin * The Temptations * Diana Ross & The Supremes * Ladytron * Le Tigre * David Bowie * Little Richard * The Cure * The Fall * The Buzzcocks * Elvis Costello * Elvis Presley * The Field Mice * Camera Obscura * Johnny Cash * Jackie Wilson * White Stripes * Talking Heads * The Raincoats * Joy Division * Veronica Falls * Martha Reeves and the Vandellas * The Magnetic Fields * The Beach Boys * Pet Shop Boys * Pixies * Art Brut * T-Rex * The Beatles * Dusty Springfield * Depeche Mode * Broder Daniel * Bronski Beat * Belinda Carlisle * France Gall * New Order * Jens Lekman * Jonathan Richman * The Jesus and Mary Chain * Candi Staton * Chemtrails * Omar Souleyman * Orange Juice * Los Campesinos! * James Brown * Boy Azooga * The Rolling Stones * Mary Wells * Kim Weston * Sonic Youth * Slowdive * Arcade Fire * The Four Tops * Flowers * The Flirtations * Frank Wilson * The Undertones * Ritchie Valens * Meilyr Jones * Prince * The Velvet Underground ♥
Source: The Victoria website