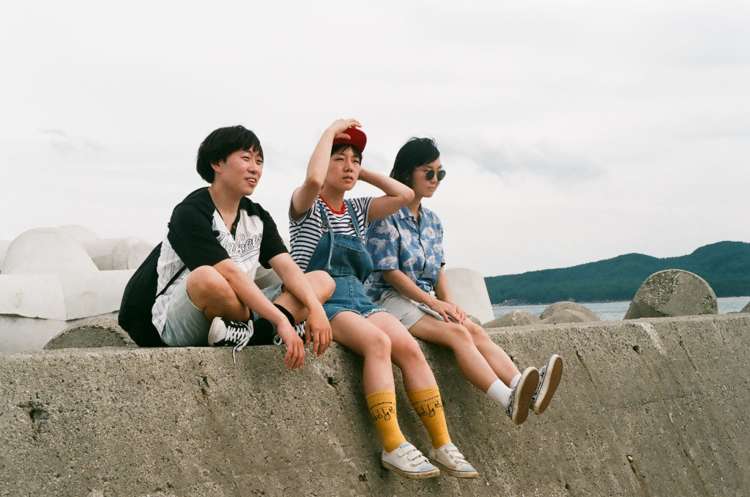 Damnably are stoked to present the European headline debut for Daegu Punk trio 드링킹소년소녀합창단 - DrinkingBoys&GirlsChoir
The band just rocked SXSW and tour the UK with Otoboke Beaver & Say Sue Me before playing The Great Escape Festival and have been getting 6Music & KEXP radio play for their 18 track debut album "Keep Drinking".
Drinking Boys and Girls Choir is a skate-punk trio from Daegu City, Korea. Formed in 2013 , they bonded over a shared love of drinking, skating and punk.
Inspired by Sum41, NOFX and Daegu's 90s-00s hardcore punk/indie-rock scene before it moved to Seoul, a topic band are very passionate about. They won't move to the capital, prefering to nurture a sustainable local scene.
Stylistically it jumps from Skate-Punk, to melodic Hardcore, to more drawn out Indie-rock. MJ's snare is relentless, Meena's all over the fretboard and Bondu rocks out on a Gibson Flying V.
"If 2018 was the year K-pop finally breached the gates of the U.S. mainstream, the South Korean power trio Drinking Boys and Girls Choir are helping light a similar fire for K-punk this year." - MTV
"The instrumental prowess is just absolutely insane…" Stereogum
"They easily capture the essence of old school punk rock by mirroring the drumming insanity of Black Flag and The Dead Kennedys and vocals similar to Kleenex or Bush Tetras." - BreakThru Radio
"The band cite stuff like NOFX as influences, and you can hear that California skate punk coming through in their sound, but they've also got wonderfully twee-ish male/female harmonies that recall classic indie pop." - Brooklyn Vegan
"…ferocious blink-and-you'll-miss-it slice of hardcore and the sound of a band lost in the joys of life." - Overblown
Order "Keep Drinking" Bandcamp: https://bit.ly/2QDOvBm Record Store Day UK 'Splatter ' Blue & Pink Vinyl version available April 13th https://bit.ly/2CBXZnH Spotify: https://spoti.fi/2Wn2t9u
https://www.facebook.com/band.drinking/
GHOST CAR
Fresh from supporting Amyl and the Sniffers, Ghost Car have a keyboard and drum-propelled sound that's slender and ferocious in equal measure - fuzzy lyrical preludes switching into shimmering, empowered waves of noise and melody.
https://www.facebook.com/ghostcarband
RAT THE MAGNIFICENT
Think an overlapping of a Venn diagram made up of Jesus Lizard, Sally Bowles, My Bloody Valentine, Slint, Oxbow and Son House and you're in the right borough. Have shared stages with the likes of Idles, Mclusky, St Pierre Snake Invasion. We know what the fuck is up.
https://ratthemagnificent.bandcamp.com/
Source: Windmill Brixton website