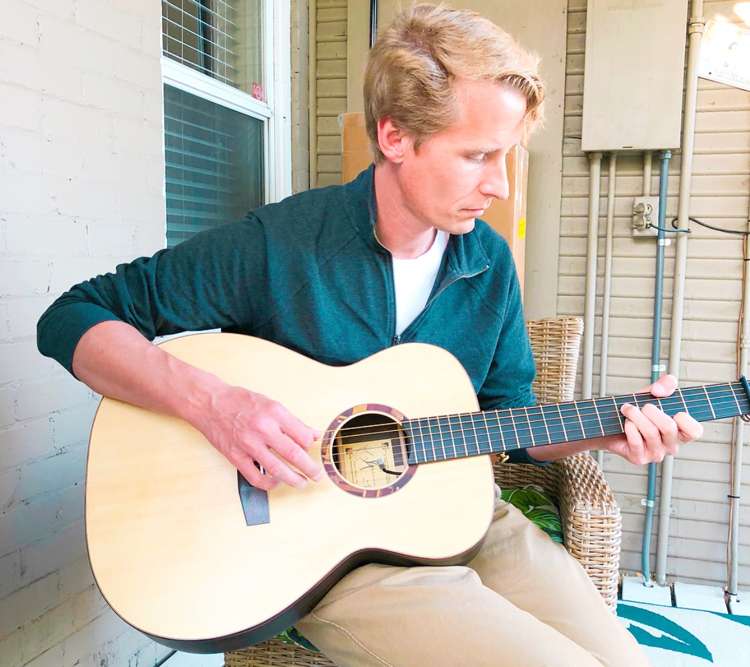 Another unmissable evening with a master songwriter, guitarist & storyteller.
TOM BROSSEAU touring with KRISTIN McCLEMENT
"I sit and write songs in my home in Salt Lake City, Utah. Sometimes I get a fire going and watch the dancing flames and listen to the logs pop. Sometimes I practice in front of the TV. I love to read. Lately it's been The Hound of the Baskervilles. A good mystery really helps to shuffle my ideas into a certain formation. In order for me to create I must escape. "One of the aspects of touring I so enjoy is playing new compositions for the first time, and as one show will lead into another and then another, it's fun to see a composition move from being the formulated thing it was in my Salt Lake City home to really taking shape on the stage. In the end, a composition becomes a song because the audience is there to help it along, and from there it takes on a life of its own. I live to set them free." – Tom Brosseau 2019
Tom Brosseau plays a special engagement of shows in Europe and the UK this spring to bring those compositions into song. Brighton-based singer and classical guitarist Kristin McClement joins Tom for Berlin and the UK shows.
The audience will hear songs from 2 Brosseau albums currently in the works. An album of seldom-heard handpicked Carter Family songs, culled from the entire Carter Family catalogue. Tom is recording these Carter Family gems with Sean Watkins, his collaborator on two previous albums - Grass Punks (2014) and North Dakota Impressions (2016).
Although the home fires burn, the recording studios beckon. Tom is traveling to Minneapolis to record an album of new original songs, with the multi-talented double bassist Gabriel Burkum. Both albums on tap for 2019. Kristin McClement is near completion to a follow-up to her shimmering Wilkommen Records release, The Wild Grips. Her tender new songs continue to explore our relationship with nature, how we see ourselves within and without. In the UK and Europe, Kristin has shared the stage with PJ Harvey, John Cale, Benjamin Clementine and the Weather Station.
John Parish (PJ Harvey) produced Brosseau's 2015 album, Perfect Abandon. Brosseau's been on NPR, Cerys Matthews' BBC6 show; his songs included in Judd Apatow's Netflix series Love.SELECT INK "No artist possesses the same peculiar qualities as Brosseau…. The power of his performing persona is so strong that he can pervade the whole room with his subjective existence, making time-warped acolytes out of his audience." - BBC.com
"Brosseau sees the world as a complicated place. One that's surrounded by darkness but ultimately overwhelmed by love." NPR First Watch - Robin Hilton
"Listening to McClement's voice is like becoming hooked on a drug as it takes over the senses, changing your feelings and perceptions. It's intoxicating." For Folks Sake
"Weighty pop music which dazzles, shimmers and glows exquisitely in the cold light of the day." Goldflakepaint review of Kristin McClement's The Wild Grips
https://www.facebook.com/folktombrosseau
https://www.facebook.com/kristinmcclementmusic/
https://www.facebook.com/russellandthewolfchoir
Source: Windmill Brixton website