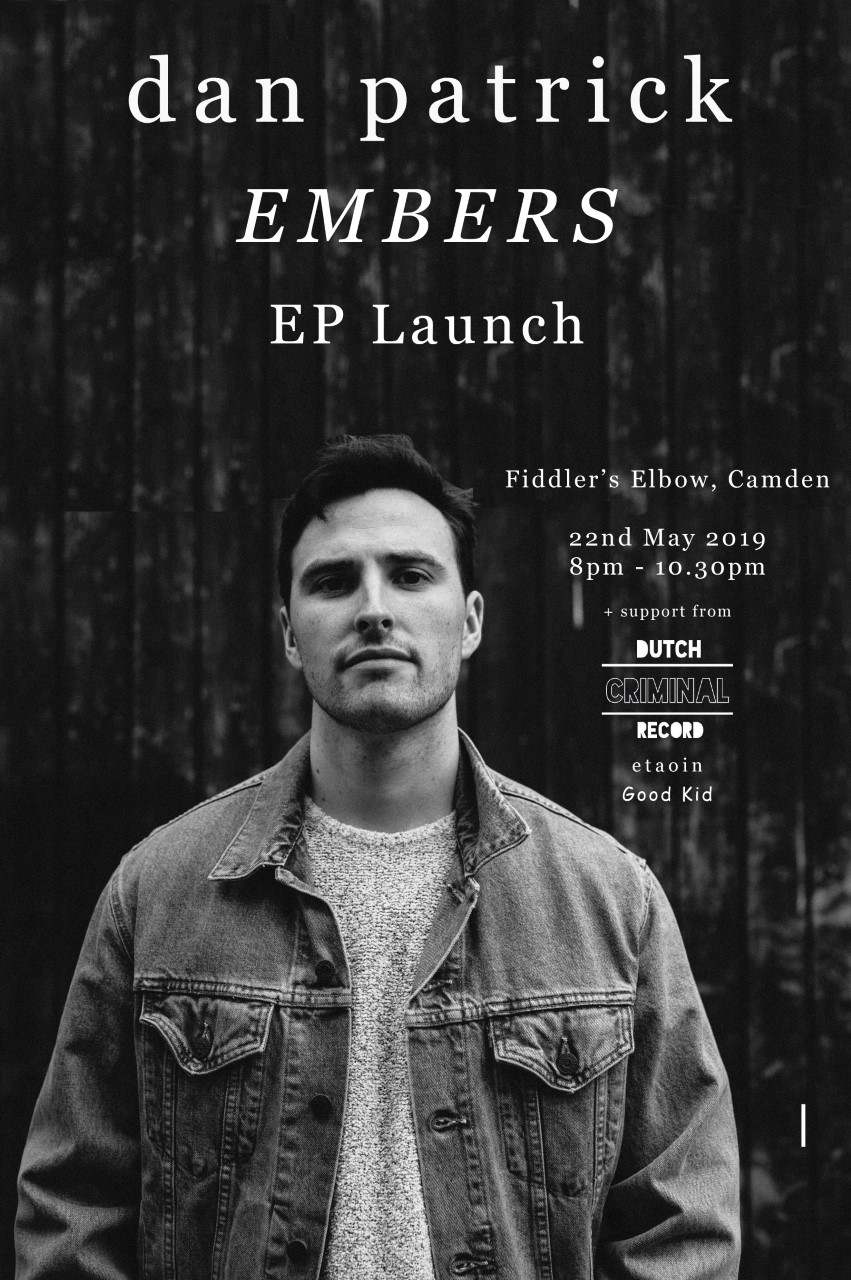 I'm excited to announce my first headline show in London at the Fiddler's Elbow in Camden on 22nd May to mark the release of my debut EP, "EMBERS". This gig is FREE ENTRY but we will be collecting donations on behalf of The Alzheimer's Society. All profits from any EPs purchased on the night will also go towards the donation to AS.

I will also be joined by the incredible Dutch Criminal Record, ETAOIN, and Good Kid. Please click 'Going' if you can make it. Cannae wait!

EMBERS SINGLE out everywhere on 17th May!
EMBERS EP out everywhere on 24th May!
DAN PATRICK 
Dan Patrick is a 22-year-old singer-songwriter currently living in London. Dan has been playing music from a very young age, having been inspired by a wealth of Irish singer-songwriters including Damien Rice, Foy Vance, Glen Hansard, and Van Morrison. Dan also draws inspiration from artists across the Atlantic, citing Howlin' Wolf, Mahalia Jackson, and Bon Iver as important influences on his reflective and emotive sound. His powerful, soulful vocals are an effective tool for delivering thoughtful and provocative lyrics that range from joyous to melancholic.
Dan has gigged across London, Belfast, and Los Angeles. He recently delivered a compelling performance at Transparence Entertainment Group's SXSW 2019 showcase in Austin, Texas.
Dan's recorded his EP entitled, "Embers" with producer Brett Shaw (Florence + the Machine, Foals, Lady Gaga) at 123 Studios in South London which is scheduled for release 24th May 2019. The stage is set for a breakout year.  
DUTCH CRIMINAL RECORD
Dutch Criminal Record are a four piece south coast Indie Surf band from Portsmouth, UK. They write and perform their own brand of original upbeat indie tunes featuring melodic vocals, interlinking riffs and blooming harmonies.
They have been recognised by BBC 6 Music, having been played by Tom Robinson multiple times and received considerable airplay on BBC Radio including live performances from BBC Broadcasting House Brighton and BBC Solent. DCR have over 1.3 million Spotify plays, as well as features on Fresh Finds and the United States Viral 50. They have been recognised by The Guardian Guide ahead of their slot at Victorious festival. So far in 2019 DCR have completed their debut tour in February including a sold out date at Bristol's Louisiana and released a single, "Graduate" on March 8th.
ETAOIN 
Etaoin is a 22 year old self taught singer/songwriter from London whose roots sink deep into the rivers and banks of Southern Ireland. With an old head on young shoulders, she has been waking up her neighbours at ridiculous hours of the night by playing music too loudly from the young age of 12. Influenced by storytelling songwriters like Tracy Chapman, John Mayer, Bon Iver, Taylor Swift and George Ezra - she lends herself to tuneful melodies and picture painting quirky lyrics.
GOOD KID
Estranged childhood pals, rekindled for a love of Scandi-Pop and Rowntree fruit pastilles, Goodkid is the trading outpost for Katie OC and 
Mack H. Crafting a sonic slurry of hyper-colour hooks and unnecessarily honest lyrics, the duo are currently working on putting their joyous sounds on wax.
Source: The Fiddler's Elbow website