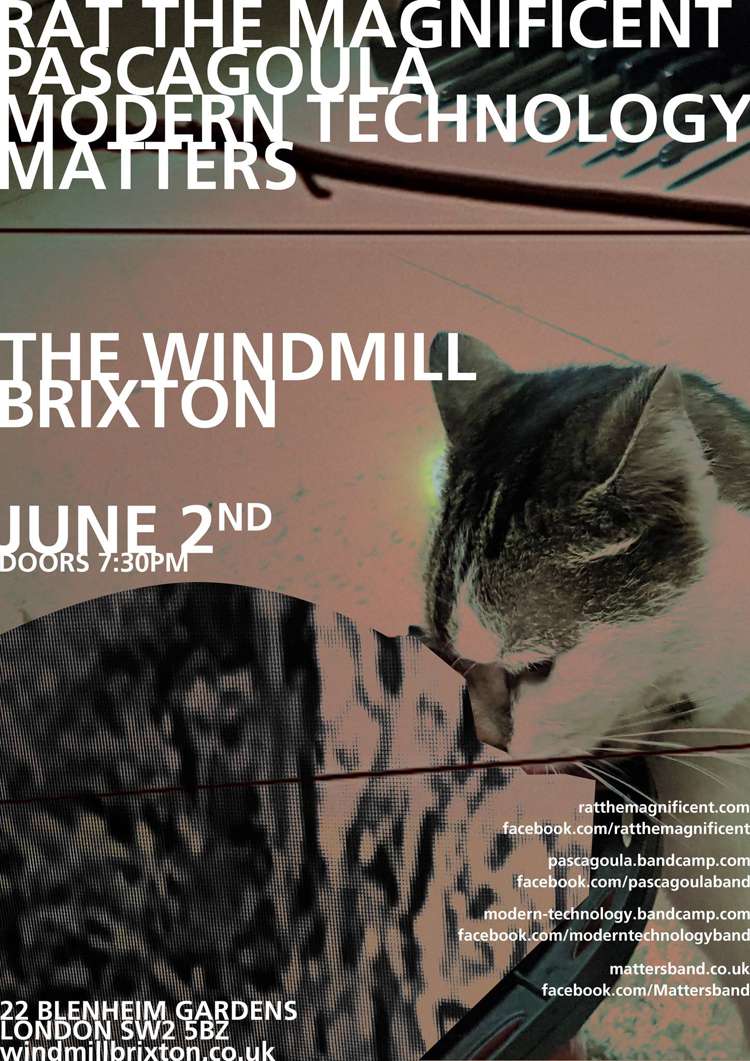 Rat the Magnificent return home from their European tour with Brighton noise-bastards Pascagoula, to headline the Windmill Brixton, on June 2nd.
We have an incredible lineup, a bill embarrassingly full of riches. Featuring Pascagøula, Modern Technology and MATTERS.
We are full excite. We love you all xxx.
Doors 7.30. £5 adv, £7 on the door.
RAT THE MAGNIFICENT:
Think an overlapping of a Venn diagram made up of Jesus Lizard, Sally Bowles, My Bloody Valentine, Slint, Oxbow and Son House and you're in the right borough. Have shared stages with the likes of Idles, Mclusky, St Pierre Snake Invasion. We know what the fuck is up.
https://ratthemagnificent.bandcamp.com/
PASCAGOULA:
Disgusting, raging, sludgy noise rock pals from Brighton. Featuring ex-members of Trencher and Charlottefield/Sweet Williams. Last years The Path/The Cross/The Aftermath is stunningly grim.
https://pascagoula.bandcamp.com/
MODERN TECHNOLOGY:
Grinding, pummeling post-punk inflected noise-rock duo from London. Their album is totally ace.
"Modern Technology write ugly noise-rock songs about the nasty sights we see all around us at this dismal point of late-stage capitalism... the sound is so deliciously grubby, flea ridden and riff driven." - The Quietus
https://modern-technology.bandcamp.com/releases
MATTERS:
Matters are guitar+synth+drums from Birmingham UK. Trippy and angular post-industrial from Birmingham. Last seen at Frauds' Sunburn all-dayer. We loved them and had to get them back.
'This is something quite epic..another winner from Static Caravan Records' - Steve Lamacq - BBC 6 Music
Source: Windmill Brixton website