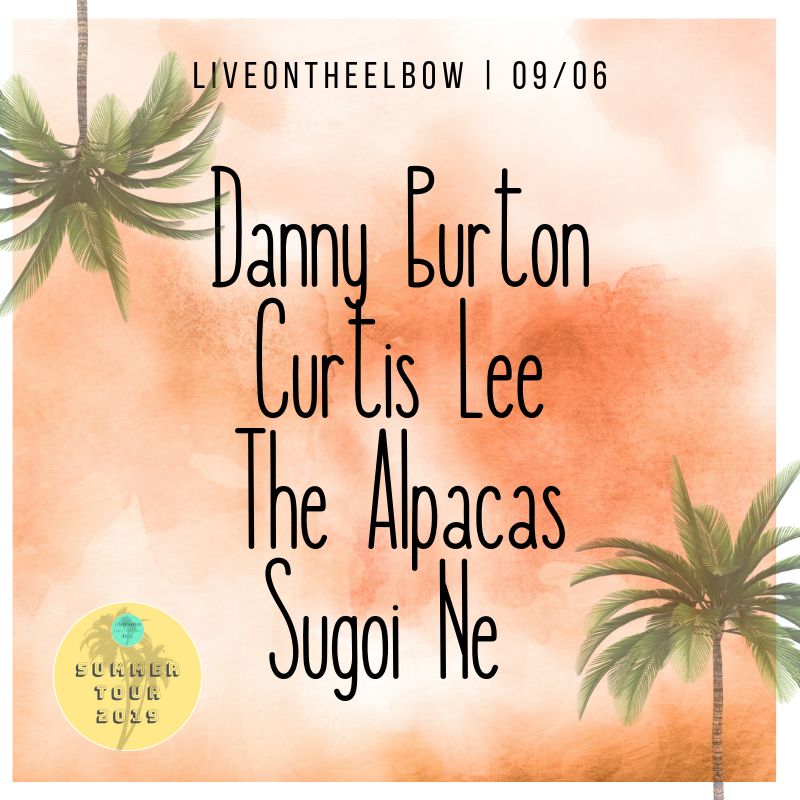 Live On The Road Music project is pleased to present this opening daytime show to Summer Tour 2019! We are pleased to present emerging acts hand chosen by us who we feel you simply NEED to hear.

Doors 1.30pm / Music 2pm - 5pm
Tickets: £4 adv / £5 door / £3 students at the door (with ID)
18+

Join us in supporting new music and live music ♥
We welcome everyone and anyone!
LiveOnTheRoad Music x

www.liveontheroadmusic.com

Introducing on Sunday 9th June at the renown Fiddler's Elbow - Camden will be:

Danny Burton - https://bit.ly/2WwHelM
In the 1990's iconic rock band 'The Face' boasted a line up of Danny Burton on guitar and vocals, Zak Starkey on drums and Gary Nuttall on bass. They were a new London sensation playing sell out shows all over town and strongly tipped by DJ Steve Lamacq and the tabloid press hailing them the next big thing to come out of Camden. However, at this time, Danny was offered the lead role in by Pete Townsend in 'Tommy - The Musical' which is subsequently turned down to focus on The Face. Irony had it that at the same time Zak was asked to replace Kenny Jones and tour with The Who. Not long after, another blow came and when Gary and Danny's replacement drummer 'Smiley' left to join Robbie Williams band.

Music never stopped buzzing in Danny's ears and after a period of joining various northern pub bands he has returned to recording, writing and performing in his own right.

Curtis Lee - https://spoti.fi/2LuQkhS
A singer/songwriter whose music is a subtle fusion of soul, rhythm & blues and pop. Curtis Lee was born in Cardiff, Wales and has been writing and performing music for 3 years. Since moving to London he has been playing shows at various venues across the city with his band and after releasing his single 'Butterfly' in late 2017 has developed his style from pop into a sophisticated blend of blues and soul.

The Alpacas - https://bit.ly/2YaXOYY
The Alpacas started as a duo in November 2011, as an exciting collaboration between Romanian singer-songwriter Andrei Ionescu and Mexican guitarist Jorge Sapién, playing in various London venues, from pubs to theatre plays and fund raising events, enjoying incredible feedback and encouragement.

In summer of 2015 Adam Leaver (guitar), Koichi Shoji (bass), Jon Scott (drums), Misato Takeda (keys) and later, violinist Juri Uchishiba (2016) joined The Alpacas to form a full rocking band. Ever since, they have been playing gigs, composing new material, released two official music video and launched their first album "Pictures of you" in March 2017.

sugoi ne - https://bit.ly/2VUgezL
Sugoi ne are a self-produced electro pop duo from South London. The band was formed by members Lucille Lux and James Wilde who met at the recording studio they work at. Sugoi ne are still 'finding themselves' in their genre and take influence from Chvrches, Tame Impala, Enya and Sigrid, among many others. The band are currently performing across the open mic circuit in London and Surrey and are set to release their debut EP 'Papaya' early next year.
Source: The Fiddler's Elbow website