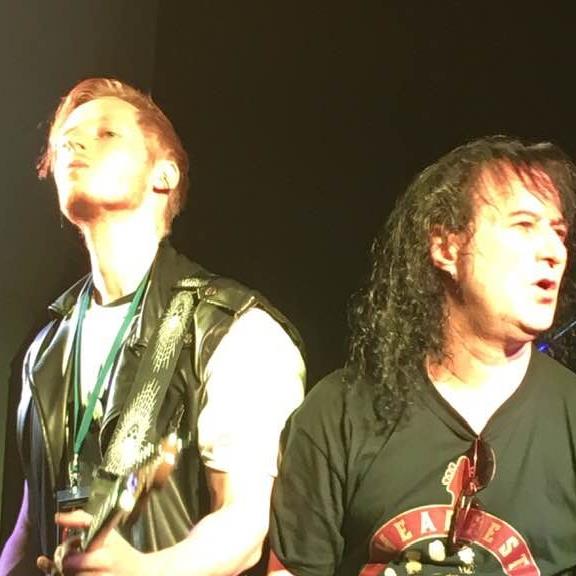 SUNDAY SMASHER - ONLY £5 ON THE DOOR
Ruff as Stone, a London based four piece supergroup came together after what began as a simple jam session one afternoon in 2009 quickly turned into a writing session as whole songs started to take shape in no time at all, leaving the group in no doubt that they had something special. Their music has evolved into a powerful mix of rock and soul. unnapologetically influenced by the 70s. This is no pastiche, rather a respectful nod to a time that we all experienced. Which is why we recorded it organically as a band unit.
Think: Aerosmith, Lenny Kravitz Seal.
The yet Untitled album will be released in spring 2018 by Bosworth Music.

Lead singer Austin Howard, formally lead singer and front man to the 80s band Ellis Beggs & Howard who had 3 European top ten hits off their album 'Homelands.' Having been referred to as the black Mick Jagger. Austin, doing all the background vocals as well as the lead vocals, adds real strength and texture to the overall vocal components of Ruff as Stone's sound. Austin's hit song and theme tune 'Heaven Knows' from the award wining Brit movie brand, 'Rise Of The Footsoldier' 1- 2 & 3 recently entered the iTunes music UK rock charts at 56. Austin has written performed and produced for TV, Film and numerous artists for many years. He comes with a pedigree that is second to none and has inspired audiences and artists with his individual style and charismatic vocal prowess.

Lutz Kunzel(Guitarist) formerly with SET, aTaNNSCHEN and 'The Flaming Rocks'. Lutz also is a composer, arranger and producer as wells a solo-artist and guitarist for different German record companies, radio and TV. Lutz's guitar style ranges from Beat and Classical to Rock and Heavy Metal, which gives 'Ruff As Stone' great variety.

Tobias Kunzel(Drums/Bvox) best known for his vocal work with the multi million-selling German band Die Prinzen. Tobias has won several awards over his career (Echo/Bambi. 2015/6.) and has played with popular east German band 'Amor & The Kids'. This cult album was called "No More Bockwurst." Tobias plays with a tenacity and style Keith Moon or Ginger Baker would be proud of. Completing the rhythm section is Rob Tree (Bass/Bvox) who has toured and performed with Chris Norman (Smokie), Mick Tucker (The Sweet) and Bliss. Influenced and inspired by the likes of Jack Bruce, Marcus Miller and Flea among others, and trained at the Academy Of Contemporary Music, he uses the experience built up playing hundreds of gigs, big and small to deliver the thumping grooves and heavy riffs that Ruff As Stone are fast becoming known for.

SEE THIS BAND LIVE for the full experience.
We play alterative rock with a mix of some latin rhythms and just finished recording our third album, called "Paraná".
Samantha Pearl - Los Angeles, CA
Through the years, her musical taste broadened from alternative to a pastiche of soul, blues, folk and European swing. "I wouldn't have grown as a musician if I'd stayed in L.A.," she says. "It was stagnant for me. I'm ready to up my game again."

Her next goal is to plan a proper tour, but in the meantime she's doing guitar duty in eclectic punk project Ultra Flake, as well as in duo Victorious Trees with dulcitar player extraordinaire Dave Watkins.

"I left to explore more, to grow up as an artist," she says. "I was ready to do my own thing because I have the potential to do a lot."
Daniel Keane is an indie-pop artist from Kent, combining jangle-pop melodies, millennial lyrics, and quirky pop electronica to create a bold, dreamy pop haven. A master of restraint, Daniel keeps to a cheap secondary school keyboard, and his Stratocaster to invent this world.
Performing throughout the South-East, Daniel Keane has been said to be a tight, eclectic and incredibly memorable set. Daniel Keane released 'SUBURBAN BALLET' to incredibly positive reviews, delivering again with his upcoming EP 'POP BANGERS / MAD ANXIETIES'.
If you don't believe him, see what people are saying:
"Stick in your head melodies, the mix of rich and cheap art, the line between funny and gravely serious"- Danny Kitchener of Easter Island Records.
"We're loving the nostalgic vibes" - Going Solo
"A good scaling climb of grungy guitars" - At Cost Magazine
"A distinctive dark indie/lo-fi artist that leaves expectations for the future." - Last Day Deaf
Source: The Fiddler's Elbow website