Saturday 14th September 2019 - 9pm - 3am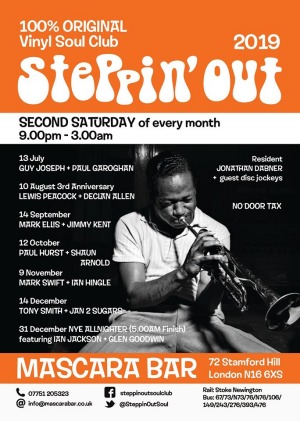 September's Steppin' Out features the incendiary combination of  globetrotting Mark Ellis (Somethin's Kookin', Le Clean Cut) + Jimmy Kent (Upbeat,Too Darn Soulful) joining JD to serve up an unrivalled mix of Rhythm & Blues, Northern Soul, Boogaloo & Mod Jazz. These fellas will dazzle you with the finest vinyl - 100% original. 100% irresistible!
The Mascara Bar is the coolest & quirkiest little gin joint/speakeasy in Hackney with a drinks/performance licence until 3am, a tough sound system, wooden dance floor, smart n sassy staff team + no door tax!
More night buses than you can shake a stick at!
Rail: Stoke Newington
Bus: 67/73/N73/76/N76/106/149/243/276/393/476
FREE ENTRY
Source: Mascara Bar website