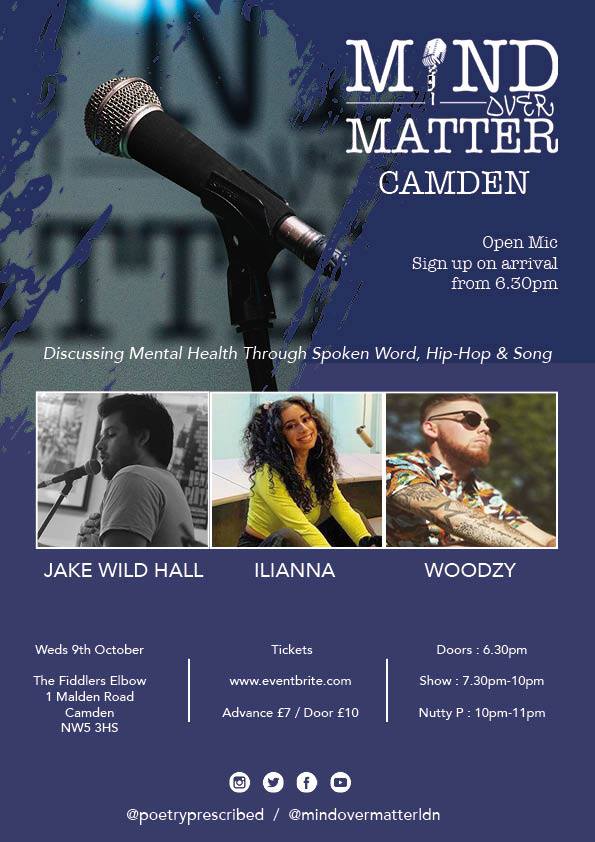 The conversation continues on Wednesday 9th October at The Fiddlers Elbow, Camden.

Open Mic and Headlined by Woodzy, Ilianna & Jake Wild Hall!

tickets
https://www.eventbrite.co.uk/e/mind-over-matter-camden-woodzy-ilianna-jake-wild-hall-open-mic-tickets-74086379355?fbclid=IwAR1lyiAtFqE8TFOqusY67t_bF-e01DIZV9DYvwbCeAHlsBqoQs3issdMV7A
Headliners
Woodzy

25 year old Flo Poet and a sayer of the things, Woodzy. From Tim Westwood TV and Channel AKA to the spoken word scene and reaching just under a million views on his 90s baby piece, Woodzy captivates audiences with his word play and relatable poems.

He currently has a poem in the Tower of London, which is accessible on the tour. His album "Happy Place" is set for release on October 12th! In the meantime he is currently performing all over London and working under The Floacist as a Flo Poet.

Illianna

Ilianna is an RnB artist from South London, fusing a 90s old school sound with a more modern twist. She also performed on 'The Voice UK' earlier this year.

Jake Wild Hall

Jake Wild Hall is one half of Bad Betty Press, the host of Boomerang Club and winner of the PBH 2016 Spirit Of The Free Fringe Award. He has performed on BBC Radio and at festivals and literary events across the UK, including touring his debut pamphlet Solomon's World—longlisted for Best Pamphlet in the 2018 Saboteur Awards. He co-edited anthologies The Dizziness of Freedom and Alter Egos (Bad Betty Press, 2018 and 2019). He is a multiple slam champion and has done some research into what parts of the UK's poetry scenes know Dragon Ball Z best.

His new pamphlet Blank is out with Bad Betty now.
Instagram

Open Mic

1. Sign up on arrival from 6:30pm

2. One Piece

3. Maximum of 4 minutes so as many people as possible have the chance to share

4. Acappella or Backing tracks. Both Welcome

Mind Over Matter

An independent project which aims to break down stigma attached to mental health and widen the conversation by discussing it through Hip Hop and Spoken Word Poetry. We host spirited, powerful events showcasing the best of up and coming talent as well as established artists from the worlds of Spoken Word and Hip Hop, for us to come together and discuss the difficult realities of mental health.

Source: The Fiddler's Elbow website