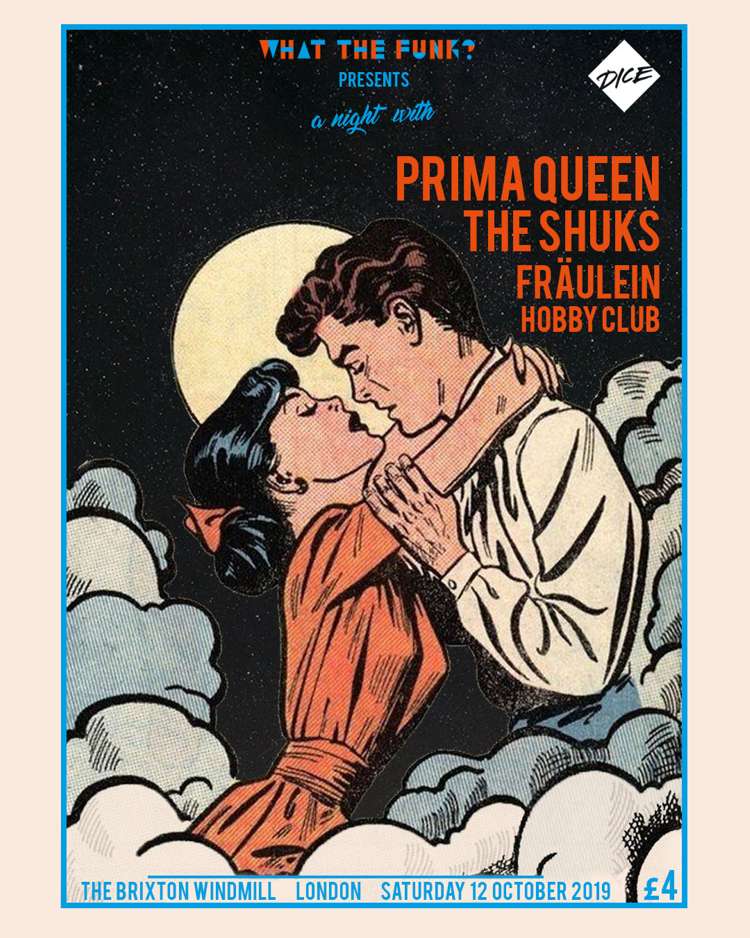 PRIMA QUEEN
London-based all-female indie/alternative rock band fronted by songwriting duo Louise Macphail (Bristol, UK) and Kristin McFadden (Chicago, USA). Combining vulnerable and nostalgic story telling with light-hearted lyrical imagery, their bitter-sweet and gritty style draws influences from artists such as Alvvays, Julia Jacklin, Phoebe Bridgers and Lucy Dacus.
https://www.facebook.com/primaqueenmusic/
THE SHUKS
Bristol based four piece who have an uncanny ability of forcing you off the well-trodden path into something foreboding and liberating. Bold, provoking and subtly theatrical - the band forgo linear tradition for something pertinent and immersive. With a brazened energy reminiscent of the sounds of 70's New York, The Shuks combine a magnetic rawness with sharp lyrical poeticism to create their own authentic bracket within the modern alternative scene.
https://www.facebook.com/theshuksuk/
FRÄULEIN
Bristol-based two piece are influenced by 90's PJ Harvey, The Breeders and grunge music. For the past year, they've been performing evocative and honest songs with intensity around the South West and London. Expect unconventional rhythms, muddy primal guitar and organic vocals.
https://www.facebook.com/frauleinmusic/
HOBBY CLUB
A geographically confused 2 piece uniting the north and south through the medium of jangle pop. Hobby Club will bring you joy and cat orbs every single moment of every single day until the heat death of the universe as this the ultimate objective of the massage project.
https://www.facebook.com/hobbyclubband/
Source: Windmill Brixton website