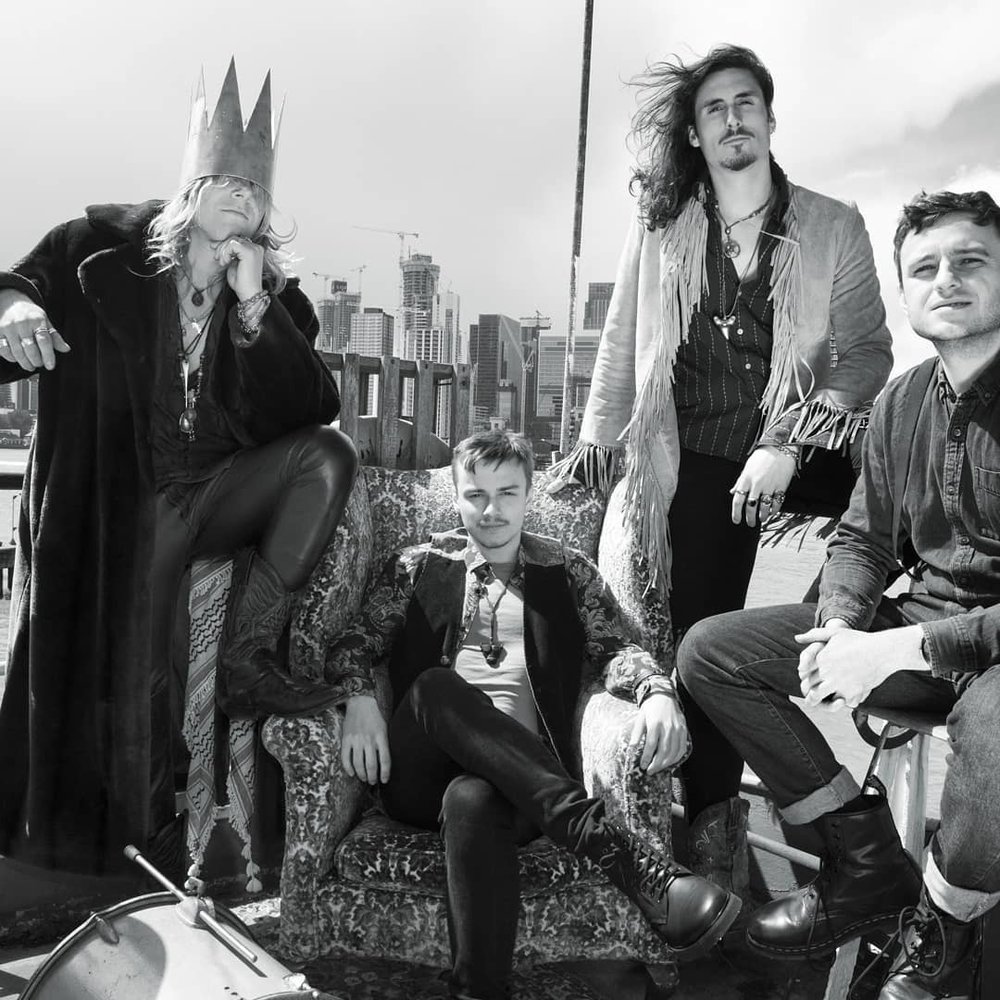 Friday YAY!! Unbelievable line up tonight!! ONLY £5 on the door
Man Shaped Wolf are a Ripcurrent Pulse Rock band. High energy, intense and engaging.
Drawing inspiration from, and likened to:
Red Hot Chilli Peppers, Jeff Buckley, rage against the machine and Led Zeppelin.
It's always one hell of a show.
Lonely Dakota
In January 2016 Luke 'VonDee' Varndell would meet Jackson and a rabble of other musicians in a damp 'would be studio' in the arse end of nowhere to audition for lead vocals. Having prepared lyrics beforehand the band quickly began to meld together, and fan favourite 'Medication' began to take form. VonDee had never fronted a band before, having previously been a solo acoustic act, and felt naked without his own guitar around his neck. However with the support and encouragement of Jackson his confidence, ability and range grew. In a moment that would have made Marty McFly proud, they had both found 'that new sound' they had been looking for.
In April 2016 Lonely Dakota would release their first single 'On The Rise'. Recorded at the Ranch Production House it received local radio success and LD went on to play a string of shows supporting acts such as SOiL, Wilson and Reigning Days. Later the same year they released their second single 'Low Life' via Revolver Records, but continual changes to the line-up saw the momentum dwindle. Due to disagreements and other commitments, the band lost its rhythm section.
Not to be deterred, and wanting to preach their songs to the masses, Jackson and VonDee set about reconstructing and breathing new life into LD.
Terry 'Tez' Jenvey would join the band in the Summer of 2017 providing thunderous bass guitar and giving a new momentum to the band. In November 2018 LD returned to the Ranch Production House, with producer Kurt Fagan, to record their new Southern Rock ballad 'Dead Stories'. This would go on to receive national airplay on Planet Rock's 'The New Rock Show', with Wyatt Wendels.
LD once again began to gather traction on the local scene developing a loyal and growing fan base. In February 2019 Lonely Dakota would become fully formed into the Alternative Rock Powerhouse it is today with the addition of Craig 'The Machine' Sepala on drums. Sepala's years of drumming experience and technical playing has helped to push Jackson, VonDee and Tez to play harder than ever before. Leading to live shows laden with 'behind the head' solo's, chest pounding bass, raspy and haunting dual vocals and earth-shattering drums.
In April 2019 LD once again returned to The Ranch and recorded their debut, five track, EP. Featuring forth coming singles 'End of Days' and 'Overdrive'.
The Superpowers
began as a studio only project devised by Derek Lewis and Rick Fell - two former members of the infamous 90's rock band Death By Yogurt (DBY). The concept was to co write songs influenced by some of their favourite bands, and Derek played drums and guitars with Rick playing guitars, bass and singing vocals. As the recordings progressed it became obvious that the live arena was where the material would have to be aired for maximum effect, and so the pair set about forming a full band.
Finding the right blend of musicians for the stage proved to be an arduous task and Rick departed the project during this process, leaving Derek effectively as the band leader. Prior to Rick's departure, the position of bass guitar was filled by Steve Carroll also of the defunct DBY. Drums, second guitar and vocals proved to be much more difficult, with four drummers, two vocalists and four guitar players coming and going until the line up that we see today was established.
During this time, Derek shifted the lead guitar emphasis towards twin leads, in the style of the inventors and best proponents of it - Wishbone Ash. Leaving the progressive stuff to the masters, yet lifting the under exposed harmony guitar style and setting it within punchy rock songs, a band sound was born – The Superpowers.
Currently the twin lead aspect has been iced, until a suitable guitarist to play alongside Derek can be slotted into the line up.
NICHOLAS JOHNSON
Cincinnati, Ohio: Where the south meets the Midwest. It's also the best way to describe the music of Kentucky-born Singer/Songwriter Nicholas Johnson; Southern roots meets Midwest rust belt rock. His EP Shady Pines Vol. 1 puts all of that on display by crafting heartbreakingly genuine songs in the spirit of songwriting heroes like Tom Petty, Jason Isbell, or Jeff Tweedy.
 His latest project, "This is Home" (Ammonia Records, 2019) is a high-spirited collaboration between Nicholas and Italian singer-songwriter and Virgin Radio personality, Andrea Rock. The split-album serves as a love letter to Johnson's adopted home of Milan, Italy and also a celebration of the winding roads and friendships that led him across the pond. The sound combines Johnson's Americana-based influences with Rock's background of traditional folk and lingering notes of punk peppered throughout.
His previous project release, Shady Pines Vol. 1 EP is the first release of the double EP project that had Johnson teaming up with acclaimed Producer and Engineer Patrick Himes (Ryan Adams, Rubyhorse, Lilly Hiatt) with the goal in mind to craft a recording that matched the intensity of his live shows. The result is a fiery brand of roots and rock that manages to sound both achingly familiar and fiercely original.
"A beautiful, energetic mixture of fuzz and twang from one of the next great voices in Americana music" - Cincymusic.com
"Extraordinary" - Don Thrasher, Dayton Daily News
"Must listen…such an energetic sound!" - Radio 6023 (Italy)
Source: The Fiddler's Elbow website