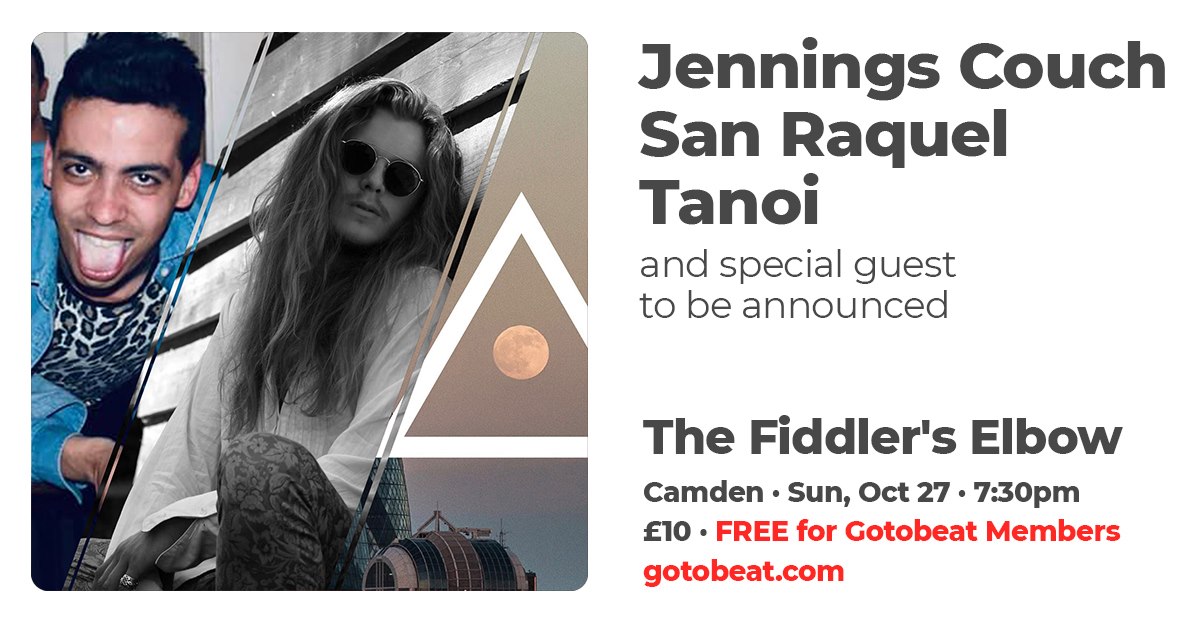 A great night with some great and coming rock bands of the London scene.

JENNINGS COUCH – Born in the wilderness of New York City, raised in the quiet tranquillity of rural England and made on the streets of West London, Jennings Couch is an artist who embodies the virtues of his environments. Since writing his first songs at the age of seven, he has gone on to craft a unique - and eccentric - pop voice. It is this distinctive voice that got Jennings to SXSW 2017, gaining the attention of a wider global audience with shows at The Apple Music House and the BBC British Music Embassy.
"A potent new artist" - Clash Magazine

SAN RAQUEL – Now based in London, San Raquel are a 4 piece funk rock band drawing influence from a wide range of artists including RHCP, Jimi Hendrix, Pearl Jam & P-Funk.Once described as 'Prince meets The Mars Volta', the band was originally formed in Reading during some of the bandmates time at University. Since then they have continued to write new music and played gigs around London, Reading and the West Midlands.

TANOI – Tanoi is a rock band with desert, surf and blues influences based in London, England. Coming from different cultures and backgrounds, the five formed a band in 2017 to create a whole new sound and record their EP. Their debut album is rumoured for release in 2019.
LES GOBELINS – Les Gobelins time is nigh. They are coming out of the darkness to reclaim the light. The name "Goblin" is said to derive from the Old French spelling "gobelin". The word goblin derives from the Greek "kobalos" meaning – "rogue".

TICKETS - https://www.gotobeat.com/gig/october-27-live-in-camden/?fbclid=IwAR3jZycXSLsMIfWYr7ll7sQdjb4eQnRW_lyOIR8vRbsWo8_PVCAXKzmBQc4
Source: The Fiddler's Elbow website