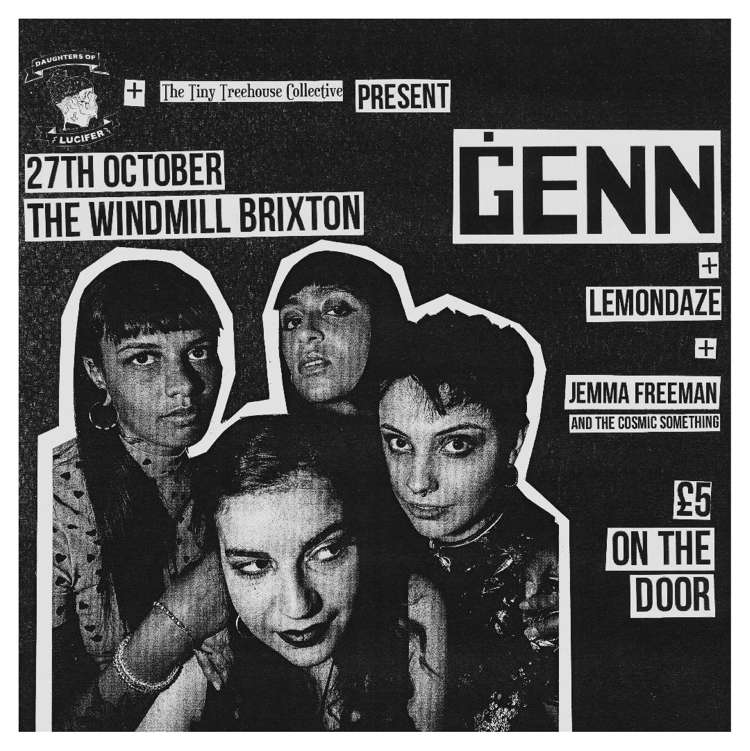 GENN
ĠENN (f.k.a. Cryptic Street//pronounced Jenn) is a musical riot, ready to rock your ears and mess with your brain. They're serving alternative post-punk madness with a fun twist, fresh out of their DIY framework. Based in Brighton, the band is a result of a trans-national pairing which came about through the internet between three musicians from Malta, and one from the UK. ¡¡¡ Debut album!!! The tantalising 'Titty Monster'; a burst of punk attitude with a dash of psychedelic, inner conflict and hell-raising fun. Beware the Titty Monster, because it's it's coming for you! Purchase now >> https://bit.ly/2ZbTFs5
https://www.facebook.com/genntheband
LEMONDAZE
Lemondaze is the female co-fronted, 8 legged love child of shoegaze and post-punk from Cambridge.
Their dreamy sound results in a wall of fuzzy, swirling guitars, hammering drums and thundering bass lines.
https://www.facebook.com/lemondazeband/
JEMMA FREEMAN AND THE COSMIC SOMETHING
South London band The Cosmic Something is the joint mission of multi-instrumentalist and songwriter Jemma Freeman, bass player and producer Mark Estall and drummer Hamid Mantu (Furniture, Transglobal Underground)
Known previously for their song writing and guitar work with dreamy psych band Landshapes (Bella Union) and new wave art band The Fcks (who were fcking great), Jemma has taken these two approaches and tinged them with energetic glam rock.
Lush guitar tones and introspective psychedelic lyrics brought together with unbounded energy and urgency. The music presents their own unique strength and pulls together themes of secret worlds, hidden agendas, apathy and anxiety. Jemma's sonorous voice tells the story of unravelling completely and tying yourself back up again.
https://www.facebook.com/cosmicsomething/
Source: Windmill Brixton website