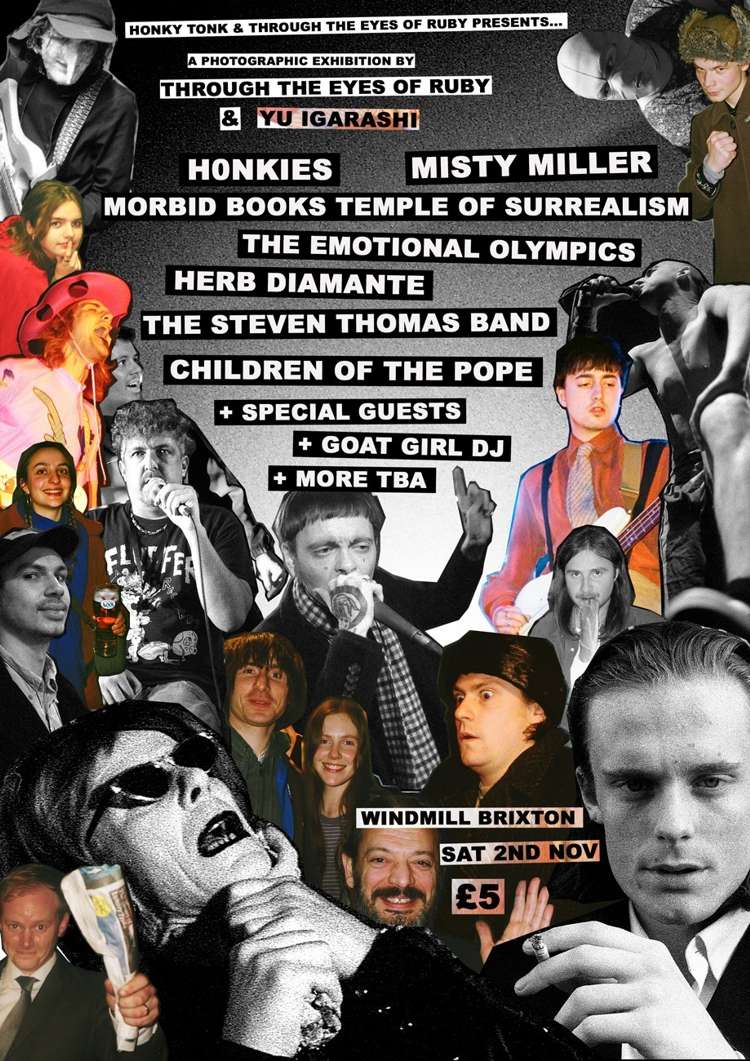 Honky-Tonk returns to present another photography exhibition by insanely talented Through The Eyes Of Ruby duo. This time their work will be curated alongside the brilliant Tokyo based 'Yu Igarashi'.
Through The Eyes Of Ruby
A photographic journal shot on 35mm film by Owen Godbert & Ste Fletcher, documenting the current underground music scene in Britain. Since the last Brixton show, even more money has been squandered on film, chemicals, another lost passport and more lost and broken cameras! We're still trying to make up the money by duping trains and drinking cheap!
Almost all the photographs in this exhibition have been taken throughout 2019 and they're all hand printed by the two of us in darkrooms in both Edinburgh & Manchester.
https://www.facebook.com/whitelightfromthemouthofinfinity/
Yu Igarashi
Yu began documenting the UK's youth music scene almost a decade ago. He derives a great sense of vitality from his appreciation of British culture and its live music in particular. It is through his simple desire to pay respect to this culture and to experience it first hand that he continues to pursue film photography.
https://www.facebook.com/yu.igarashi.10
Live acts on the day/night:
Peeping Drexels - https://www.facebook.com/peepingdrexels
H0nkies - https://www.facebook.com/honkieshonkies/
Special Guests
The Steven Thomas Band - https://www.facebook.com/theesteventhomasband/
Misty Miller - https://www.facebook.com/mistymillermusic/
Morbid Books Temple of Surrealism - https://www.facebook.com/morbidbookslondon/
Herb Diamante - https://www.facebook.com/HerbDiamante/
The Emotional Olympics - https://www.facebook.com/TheEmotionalOlympics/
Children of the Pope - https://www.facebook.com/Children-of-the-Pope-102357211151573/
Goat Girl DJs - https://www.facebook.com/goatgirlofficial/
£5
On the night, a collection bucket will be on the door raising money for Free Movement Skateboarding, which is a non-profit organisation based in Athens, Greece, who run skateboarding workshops in refugee camps as well as a women's educational program - engaging 21 nationalities, with 45% female participation overall. Owen will have just returned from a month volunteering with them the day before the show, so feel free to ask him on the night if you'd like to find out more about it. Any donations would be massively appreciated!
Source: Windmill Brixton website