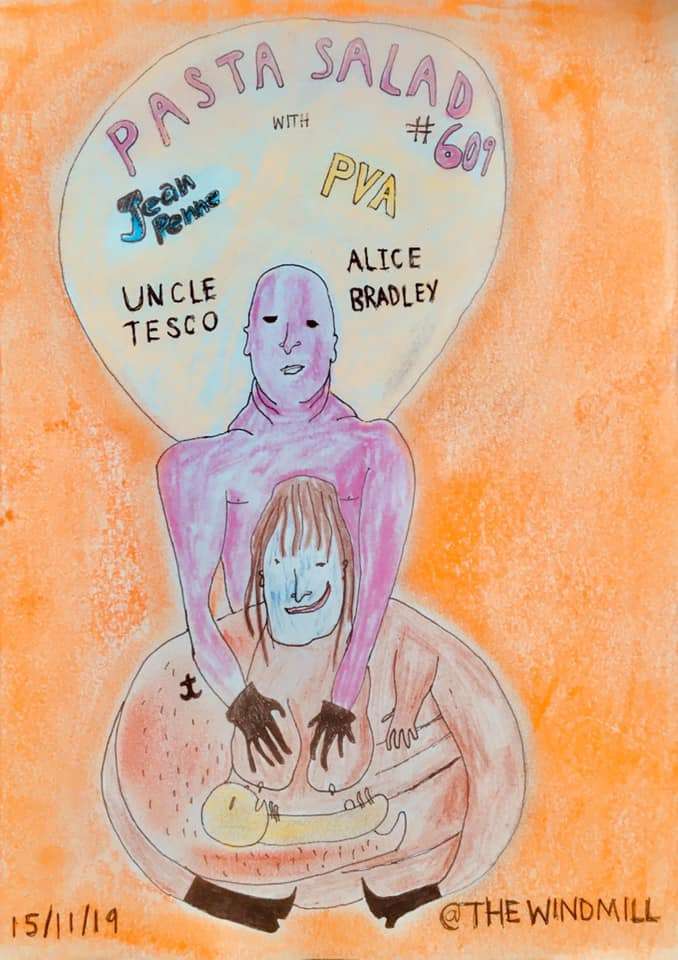 PASTA SALAD #609
The Durum wheat butcher is back again.
They say lightning never strikes twice in the same place but they don't say that Jean Penne's Pasta Salad isnt back again and this time it means business.
PVA
Live dance music to snog along to! Very happy to have these greasers headlining and churning out the cheeky wobblers until late.
https://www.facebook.com/pvapresents/
JEAN PENNE AND THE PENETRATORS
Pre award winning dance music and tear jerkers played by druids. Expect brand new songs.
https://jeanpenne.bandcamp.com/track/simon-virgo
https://www.facebook.com/JeanPenneOfficial/
UNCLE TESCO
Robbie Williams's solo project. Slamming riffs for boys with quiffs. This song rocks:
https://m.soundcloud.com/user-426511190/illusions
https://www.facebook.com/wearetesco/
ALICE BRADLEY
When she's not plinking she's plonking and when she's not in hospital she's rocking out.
"The sound of A&E" - The Quietus
Poster by Albert 'The Randomer' Haddenham
Source: Windmill Brixton website