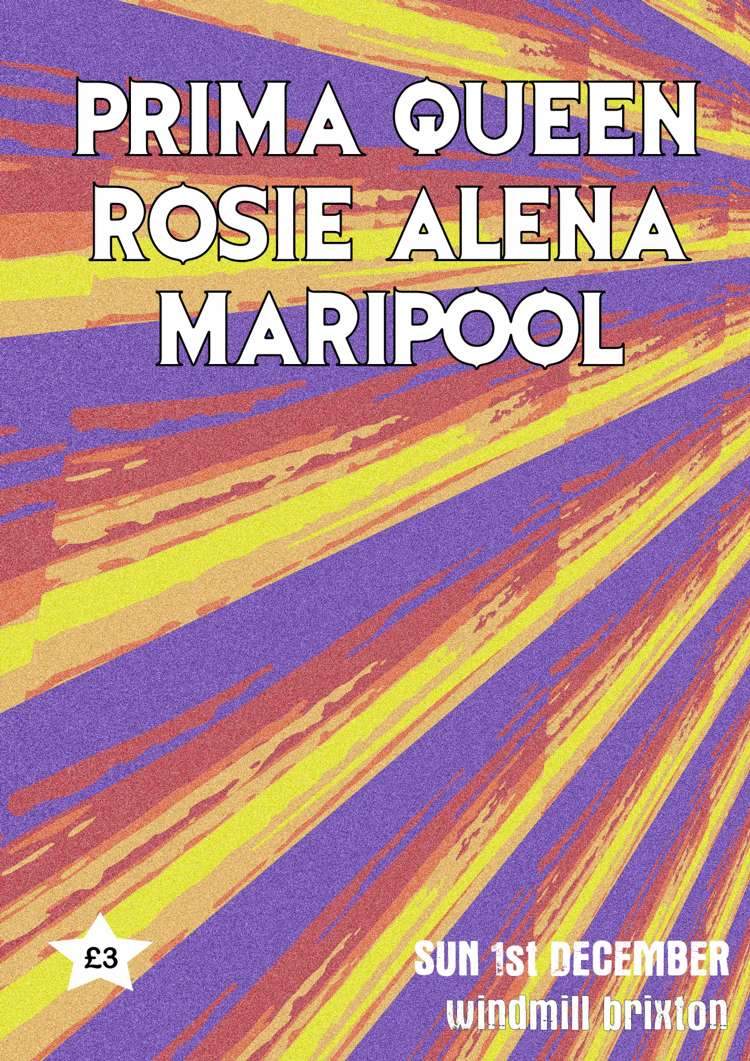 PRIMA QUEEN
London-based all-female indie/alternative rock band fronted by songwriting duo Louise Macphail (Bristol, UK) and Kristin McFadden (Chicago, USA). Combining vulnerable and nostalgic story telling with light-hearted lyrical imagery, their bitter-sweet and gritty style draws influences from artists such as Alvvays, Julia Jacklin, Phoebe Bridgers and Lucy Dacus.
https://www.facebook.com/primaqueenmusic/
https://open.spotify.com/artist/52fhNGn51RhUvjlapHT5T2?si=3CbE1En6TG-JllKPbDRqAA
ROSIE ALENA
Five piece psychedelic/folk/rock. Dreamy and hypnotic. Super tight musicians.
https://www.facebook.com/rosiealenamusic/
MARIPOOL
Maripool is the bedroom project of Natasha Simões brought to the stage with a full band.
https://www.facebook.com/maripoolmaripool/
https://open.spotify.com/artist/2Lmop7bq7RxW1Ue2GQsgSf?si=IOfON-jnRZ2pf267CpylWw
Source: Windmill Brixton website