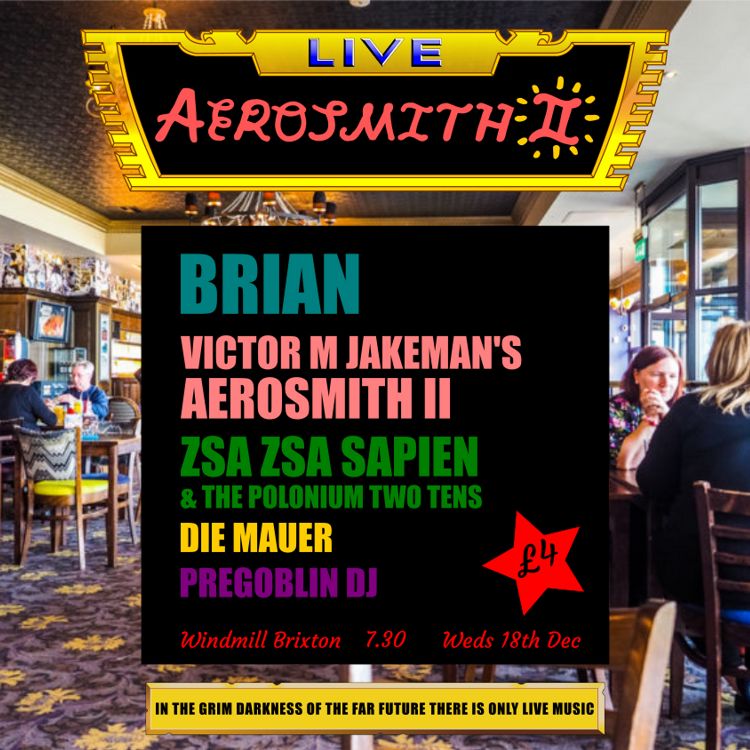 VICTOR M JAKEMAN'S AEROSMITH II
A new, startling display of stupidity with members of Insecure Men, Keel Her and Circuit Breaker. Using the largest electric piano available to civilians Victor will sing his songs directly to you. Lou Reed if he was an 8 year old child.
https://soundcloud.com/victor-m-jakeman
BRIAN
For Nathan Saoudi, it's very simple - there's the very top of life and the very bottom of life, and Brian are here to show you what it's like at the bottom or top. You can't constantly play in somebody else's dream -you've got to live your own dream a bit.
https://www.youtube.com/watch?v=B9-fnQBYm0A
https://www.youtube.com/watch?v=Qg8tv0tfX18
ZSA ZSA SAPIEN & THE POLONIUM TWO TENS
Zsa Zsa Sapien of MEATRAFFLE, SCUD FM and THE HIFI TWINS. The 2nd directorate of THE EXTRAORDINARY COMMISSION for the SUPPRESSION of DEPRESSION and BAD VIBES plays off kilter love songs about HIFI components, Chest X- Rays and Italian Ambulances.
https://www.youtube.com/watch?v=A2O3jWThSJE https://soundcloud.com/mutado-pintado/the-times-are-a-table
DIE MAUER
Lo fi pet death collective die Mauer began in 2016 and are still here.
https://diemauer.bandcamp.com/track/concrete-sweater-2
Plus
Pregoblin DJs!
Source: Windmill Brixton website