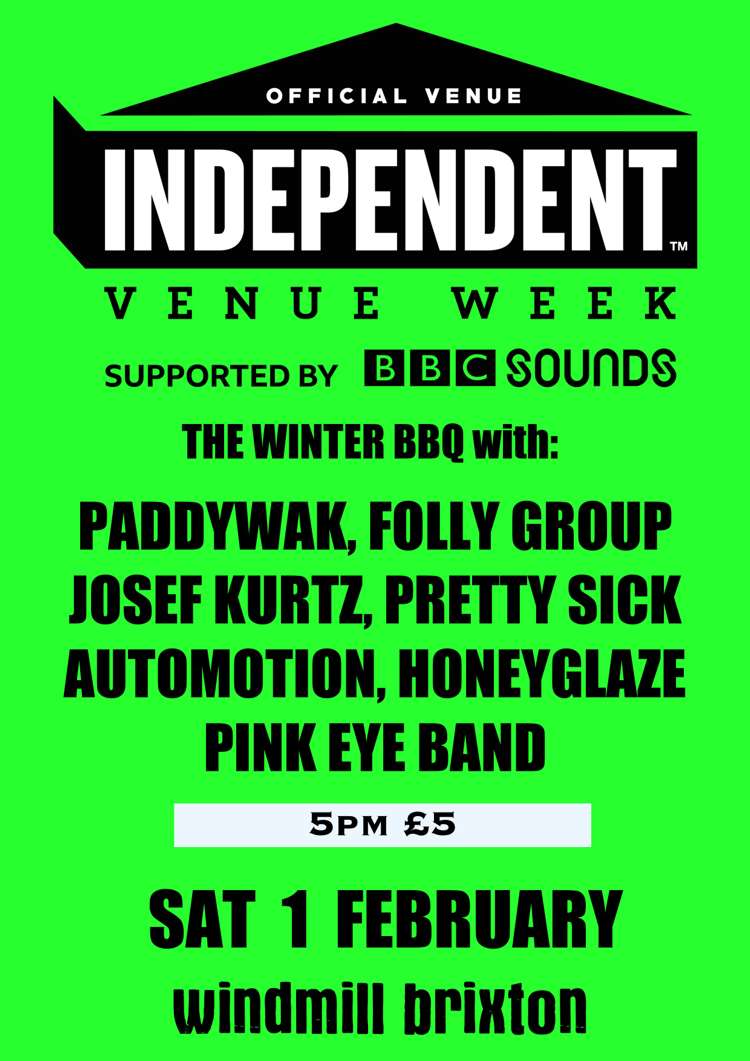 During Independent Venue Week we like to showcase some of the bands who've played and made a big impact at the venue in the previous year. We also like to light up the BBQ, because, why not, February is a good time to get the grill going. Even better, it's free food between 5 and 7pm!
PADDYWAK
..will melt your face with shouting, screaming, singing, synth and more synth plus a bass to rob things along. So exciting, live!
https://www.facebook.com/paddypaddywakwak
FOLLY GROUP
Post punk collective.
"sound of the summer" - Men's Health
https://www.facebook.com/follygroupcomms
JOSEF KURTZ
One of the most interesting new London bands to come along in recent months, JK is a many-faceted sextet who'll take you to the edge and just let you linger for the fun of it.
https://www.facebook.com/josefkurtz2001/
https://soundcloud.com/josefkurtz
PRETTY SICK
Euro-American awesomeness - two basses and a drumkit.
https://www.facebook.com/prettysickband/
https://open.spotify.com/artist/5JUGL6ec4eULQ5eVEbOC7e?si=P_ehRzkpR0-IzUkdFK2FXg
AUTOMOTION
The band that have no social media presence or recorded music!
Four piece. Instrumental. Quite loud!
HONEYGLAZE
Slow-paced folky psychedelia with amazing vocals.
https://www.facebook.com/honeyglazeldn/
https://open.spotify.com/artist/0IJZjR1tj2EudGR8jvxZtM?si=dBoiNTt6TTeUp8xW3P6Iwg
CHILDREN OF THE POPE
Postpunk cult.
https://www.facebook.com/Children-of-the-Pope-102357211151573/
PINK EYE BAND.
Horsham's number 1 lo-fi popstar (according to the West Sussex County Times) now has a full backing band to pelt out those disco bangers.
https://www.facebook.com/PinkEyeClub/
APPROX STAGETIMES:
PaddywaK (11.20pm)
Folly Group (10.30pm)
Josef Kurtz (9.40pm)
Pretty Sick (8.50pm)
Automotion (8pm)
Honeyglaze (7.10pm)
Children of the Pope (6.20pm)
Pink Eye Club (5.30pm)
Source: Windmill Brixton website