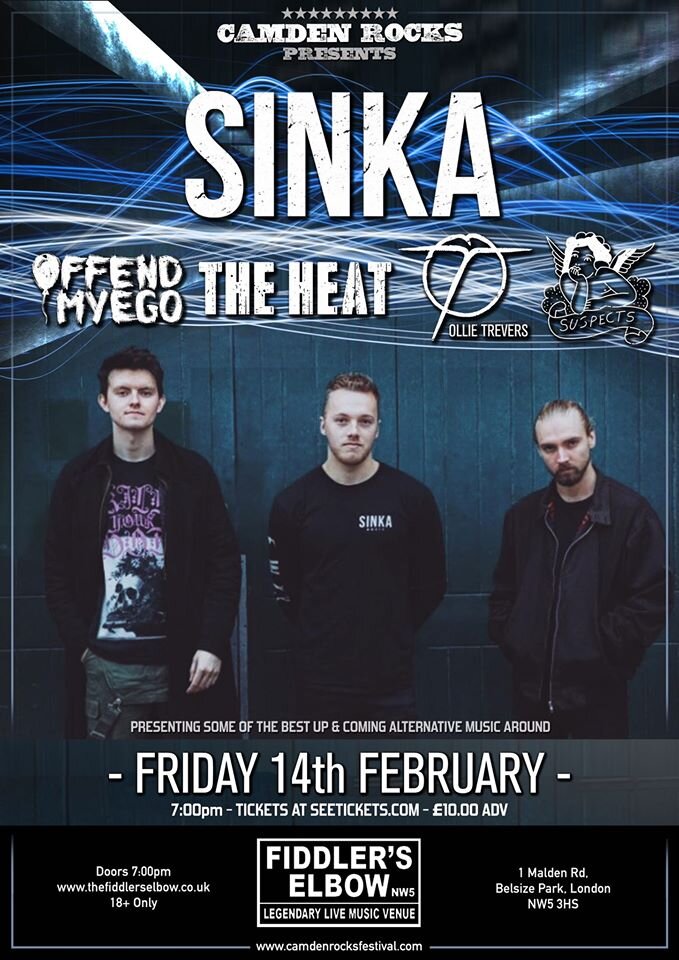 Camden Rocks Festival proudly presents heavy-hitting alt-rock power-trio SINKA plus Offend My Ego, The Heat, Ollie Trevers and Suspects live at Fiddler's Elbow - Camden.

Since the continued success of Camden Rocks Festival, we're running a string of 'presents' shows to give you some of the best new alternative, indie, rock & metal music about.

Tickets - http://camdenrocks.seetickets.com
Doors - 7:00pm // Price - £10.00 Adv. // 18+ Only

After Party Cheap List - http://po.st/BLK0214

••••••••••••••••••••••••••••••••••••••••••
About:

SINKA - https://youtu.be/_lIryBWchIs
Heavy-hitting alt-rock power trio from Watford, SINKA are - as BBC Introducing's Danny Fullbrook said - so, so, so good. Current release 'Fussy' has been receiving national coverage on BBC Radio 1, Planet Rock, Amazing Radio & many many more. With its buzzsaw riffs and soaring vocals, Fussy and precursor 'You Run' 's tempo-shifting, breakneck sonic onslaught are tantalising tastes of what we can expect from this fast-rising band. See socials for tour dates and other news.

Offend My Ego - https://youtu.be/h2Ry4qN04zc
Offend My Ego is a London based 'rock' band that is going through all the cool band descriptions to describe themselves. Luckily their music is their own.

The Heat - www.facebook.com/theheatofficial
London Rock and Roll band.

Ollie Trevers - https://youtu.be/d7lzkrXrcME
The Ollie Trevers Band is a throw back and look forward, with influence from past and present reacting something new and beautiful. With ethereal vocals and guitar that fills you up and sets you to explode, Ollie Trevers is progressive, psychedelic and spectacular all at once.

Suspects - https://youtu.be/AG_alVp5Fp0
Suspects are a 2 man RIOT from Southend On Sea. Signed to the Southend-based label Cool Thing Records. For Fans Of All Things PUNK.
Source: The Fiddler's Elbow website