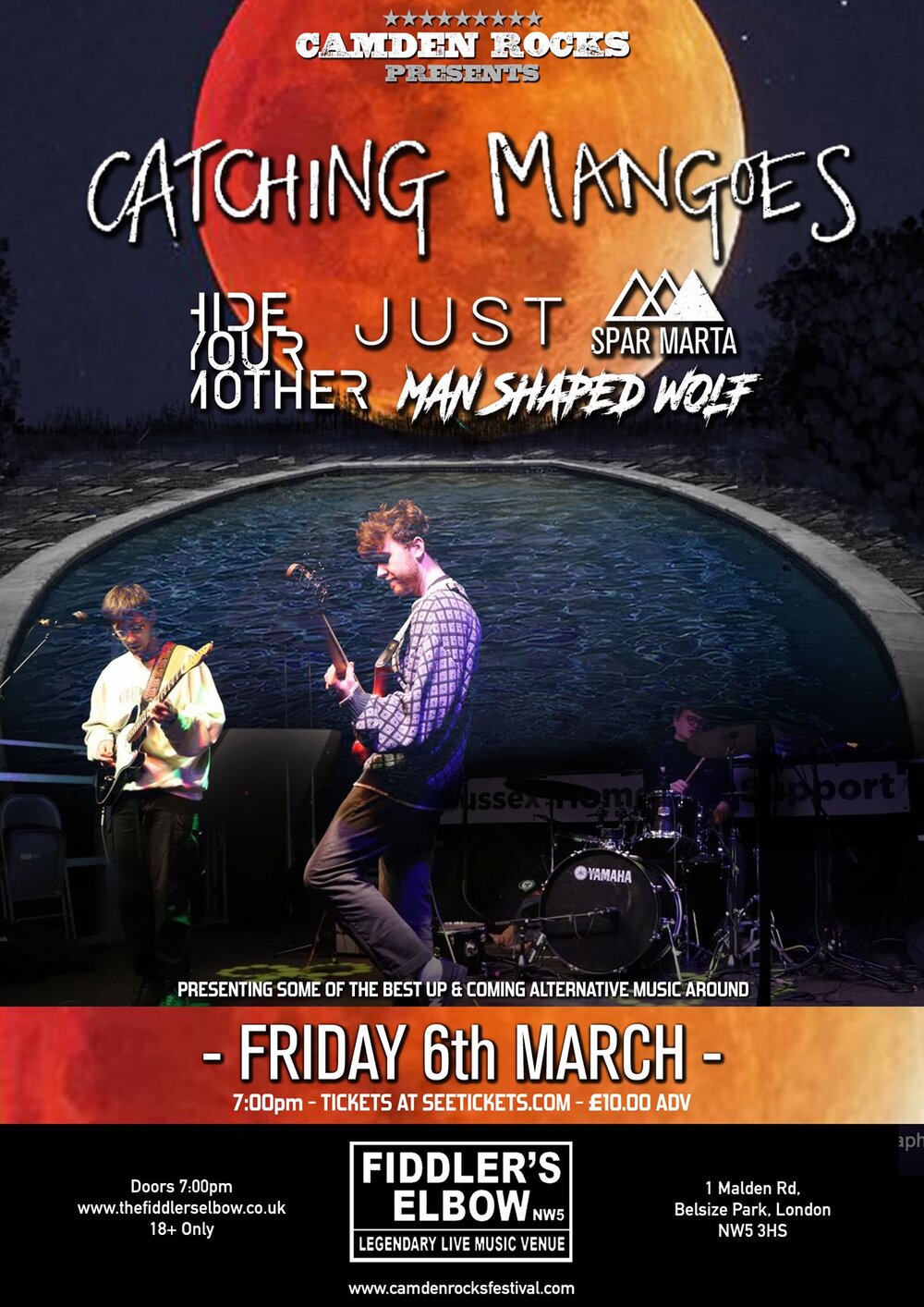 Camden Rocks Festival proudly presents Brighton rock-trio Catching Mangoes plus Hide Your Mother, JUST, Man Shaped Wolf and Spar Marta live at Fiddler's Elbow - Camden.

Since the continued success of Camden Rocks Festival, we're running a string of 'presents' shows to give you some of the best new alternative, indie, rock & metal music about.

Tickets - http://camdenrocks.seetickets.com
Doors - 7:00pm // Price - £10.00 Adv. // 18+ Only

After Party 🎉 www.facebook.com/events/3610163109057513
Blackout Camden at The Underworld Camden.

••••••••••••••••••••••••••••••••••••••••••
About:

Catching Mangoes - https://fbwat.ch/10nUdXqHHiKtUUyr
Three-piece rock band from the South. Formed in 2014, they initially played around London before moving to the Brighton scene. Combining harmonic melodies with heavy rolling riffs and energetic live shows they have played across the UK from Leeds to Brighton.
"Forged in the creative hub that is Forest Row, Catching Mangoes have quickly grown themselves a little cult following that tracks them relentlessly round the London and Brighton circuit, and why not? With riffs as catchy and blue as taking a flying Fosters to the eye, there's no reason you shouldn't see this loyal following grow. The waves, or at least the pretty sizeable ripples they've been making in the English Channel were turned up a notch when they swaggered their way through to the Final of The Isle of Wight Festival New Talent Competition in 2019."

Hide Your Mother - https://youtu.be/7VUZF2rWSdY
'Muse meet Prince to hang out with The Strokes and Cornell', this is how they describe their sound made of catchy riffs, powerful rock vocals and a solid groovy and pop rhythmic session. Their main influences are Muse, Foo Fighters, Chris Cornell, The Strokes, Prince, Jamiroquai, Nine Inch Nails.

JUST - https://youtu.be/kpcWNYPY3CU
Formed in September 2015, JUST are a quartet that like to dabble in all things math and rock. Having released their self-titled EP in late 2017, incorporating various sub genres to create a microcosm of enjoyable noise, JUST are committed to providing good tunes and dynamic live shows.

Man Shaped Wolf - https://youtu.be/ekahlhhDf6Q
London 4 piece funk rockers have been snowballiing their modern take on hard rock with a pulse all over London. With a rhythm section that'll get you off your seat, blistering guitar solos that'll bring you back down to earth and bellowing vocals that'll blow your mind, Man Shaped Wolf are the ones to watch.

Spar Marta - https://youtu.be/GFiY-m0b-fA
Merging hard rock, metal and reggae together this band are unlike any band you've ever heard before. Get ready to sweat, mosh and dance your ass off because they are not an acid jazz trio, but they are Spar Marta...
Source: The Fiddler's Elbow website