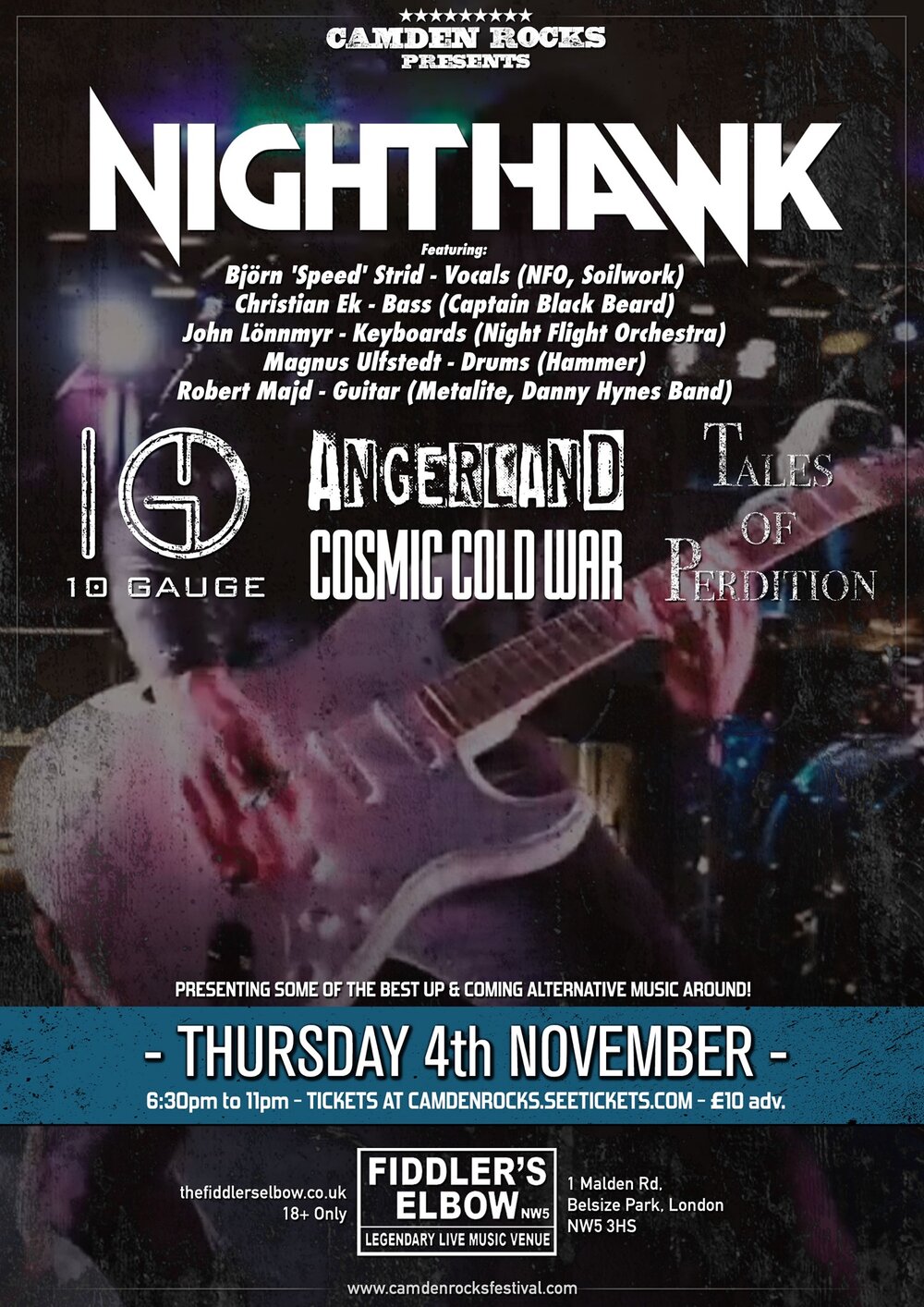 Camden Rocks Festival proudly presents the hard-hitting supergroup Nighthawk plus 10 Gauge, Angerland, Cosmic Cold War and Tales Of Perdition live at Fiddler's Elbow.
Tickets http://camdenrocks.seetickets.com
6:30pm to 11pm // £10 Adv. //
Live music is back in action Grab your mates, grab your tickets, and get down for some of the best new alternative, indie, rock & metal music about! Brought you by Camden Rocks Festival
••••••••••••••••••••••••••••••••••
About:
Nighthawk - https://youtu.be/fmjaVSrJjDw
www.facebook.com/Nighthawkrocknroll
Nighthawk is the solo project by Robert Majd, also known as the bass player in Metalite, Captain Black Beard and Fans Of The Dark. The idea behind the project was just to have fun and get to play guitar again. In July 2021 the first album "Midnight Hunter" was released, featuring drummer Henrik Johansson (Dead Kosmonaut) and bass player Georgios Vamvatsicos (Supralunar) as well as a variety of singers such as Linnéa Vikström (Therion, At The Movies) Björn Strid (The Night Flight Orchestra, Soilwork), Robin Eriksson (Degreed) and Chips Kiesbye (Sator). "Having all of these great musicians participating on my album is a real honour for me" says Robert. The album was produced by Erik Modin (Wildness) and will be released by MR Records. The second Nighthawk album is being mixed and the third album will be recorded at the world famous Abbey Road studios in November 2021. Before the band enters the studio however, they have decided to do a debut show at Fiddler's Elbow in Camden, London. This will be an exclusive concert with never before heard material, with a very special Nighthawk lineup featuring:
Björn 'Speed' Strid - vocals (NFO, Soilwork)
Christian Ek - bass (Captain Black Beard)
John Lönnmyr - keyboards (Night Flight Orchestra)
Magnus Ulfstedt - drums (Hammer)
Robert Majd - guitar (Metalite, Danny Hynes Band)
10 Gauge - https://youtu.be/iDVMZ7-MTSk
www.facebook.com/10gaugeofficial
British hard rockers 10 Gauge take the rock sound of early '90s and give it a contemporary twist. With punchy vocals that hit you straight in the gut, flowing riffs that make you want to really move and a driving drum/bass combo ripe for head banging, creating catchy ripper tracks with earworm choruses that really stick in your head.
Angerland - https://youtu.be/-QVP4aHniNw
www.facebook.com/angerlandband
Post-punk rage and vehemence. Come bask in the noise. Ira industria noster.
Cosmic Cold War - https://youtu.be/Y19bBuRf-PU
www.facebook.com/cosmiccoldwar
COSMIC COLD WAR take you to the most remote reaches of the cosmos and the darkest corners of your mind. Matching soaring melodies with crushing riffs, their international line-up delivers a unique blend of prog, groove and thrash metal inspired by literary and cinematic horror. Join the War.
Tales Of perdition - https://youtu.be/fibhNmADFgI
www.facebook.com/talesofperdition
Tales of Perdition are a 5-Piece London-based metal band with influences of classic, symphonic and metalcore to guarantee great riffs and a great show!
Source: The Fiddler's Elbow website