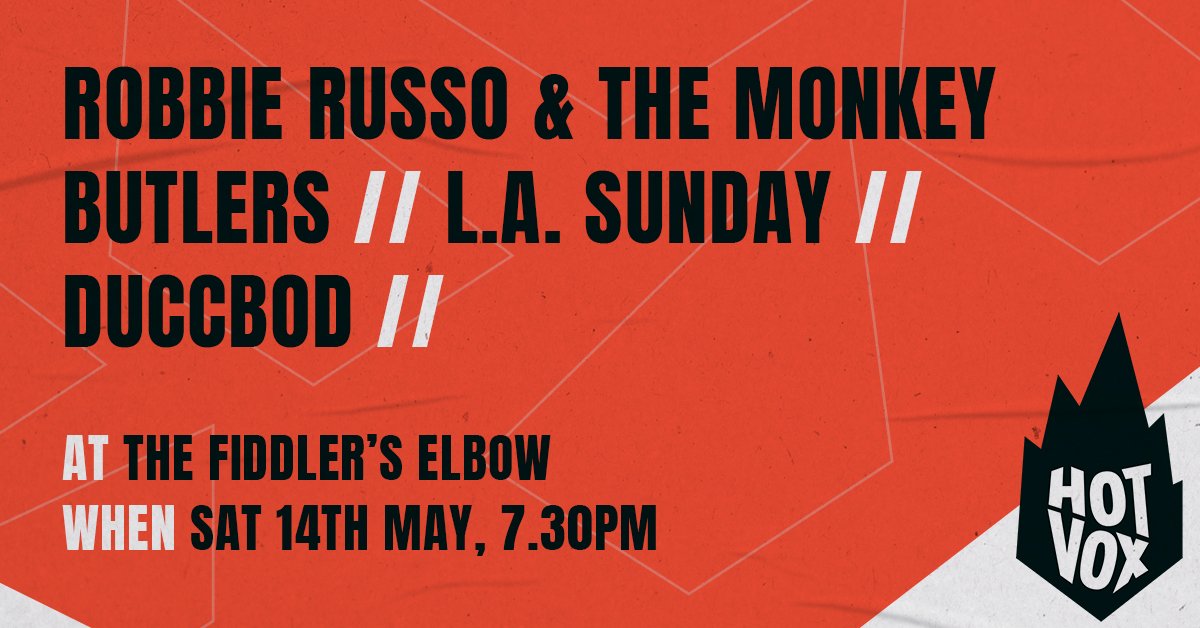 HOT VOX Presents: Robbie Russo & The Monkey Butlers // L.A. Sunday // Duccbod + More
HOT VOX Presents: Robbie Russo & The Monkey Butlers // L.A. Sunday // Duccbod + More
Situated in the heart of Camden, The Fiddlers Elbow is one of London's longest running independent live music venues. Showcasing live music seven nights a week, The Fiddlers Elbow is renowned for promoting some of the hottest new names in the industry. The retro decor and musical memorabilia make this a bucket list venue for any new talent. So join us at The Fiddlers Elbow and discover your next favourite band!
Robbie Russo and The Monkey Butlers
https://hotvox.co.uk/artist/the-monkey-butlers/
How does one define The Monkey Butlers?
An 8 piece rock band from Birmingham with a sound loud enough to rival the trumpets at Jericho. An enigmatic bunch of performers, join these maestro musicians as they encorporate Jazz, Blues and Performance Art into a night of unforgettable rock music. Once you have seen The Monkey Butler play, you'll be hard pressed to forget them.
Ever reinventing, ever chaning and ever rocking – The Monkey Butlers WILL change your life xoxo
L.A. Sunday
https://hotvox.co.uk/artist/l-a-sunday/
L.A. Sunday are an emerging band from Lincoln City who possess the stage and comand the audience. Lloyd, Finn, Harry and Charlie bring their music and song writing skills to life with an energetic performance.
"The indefinable strength of sound that is achieved is remarkably open and delicate. Whilst initially, they appear to be pushing against barriers, L.A. Sunday actually strikes a perfect and effortless balance. Trying to describe their performance doesn't do them justice, you need to see them for yourself!" – Rock Lynx Magazine
Duccbod
https://hotvox.co.uk/artist/duccbod/
Solo artist from Lincolnshire backed by his hometown friends Alex and Finn on guitar with drummer Jan from Switzerland who Duccbod met at university in London. Have consistently been played on & performed live on BBC Introducing Lincolnshire & have had plays on BBC Radio 6, Nottingham, Sheffield & Leister – been on the lineup for Beyond the Woods Festival for the past 3 years, with headline shows in London and Lincoln and multiple shows abroad in Madrid. Amassed over 1,500,000 streams across all platforms. Early influences include Lil Peep, Post Malone, Joji but over time I have begun to associate more with the likes of Yellow Days, Skinshape, Pink Floyd, Dope Lemon & Khruangbin.
+ More
DOORS OPEN: 7.30pm
MINIMUM AGE : Strictly 18+ (I.D may be required)
STUDENT DEALS : Music students (ACM, BIMM and ICMP) receive Early Bird Ticket price on the door. Valid student photo ID required and entry is subject to capacity
VENUE ADDRESS: The Fiddler's Elbow, 1 Malden Road, Camden, NW5 3HS
VENUE WEBSITE: https://hotvox.co.uk/venue/the-fiddlers-elbow/
VENUE PHONE: 0207 4853269
TICKET LINK: https://bit.ly/3Bf7o1S
FACEBOOK EVENT: https://fb.me/e/2aDPLWTfe
HOT VOX EVENT LISTING: https://hotvox.co.uk/event/61277/
HOT VOX: www.hotvox.co.uk
Source: The Fiddler's Elbow website