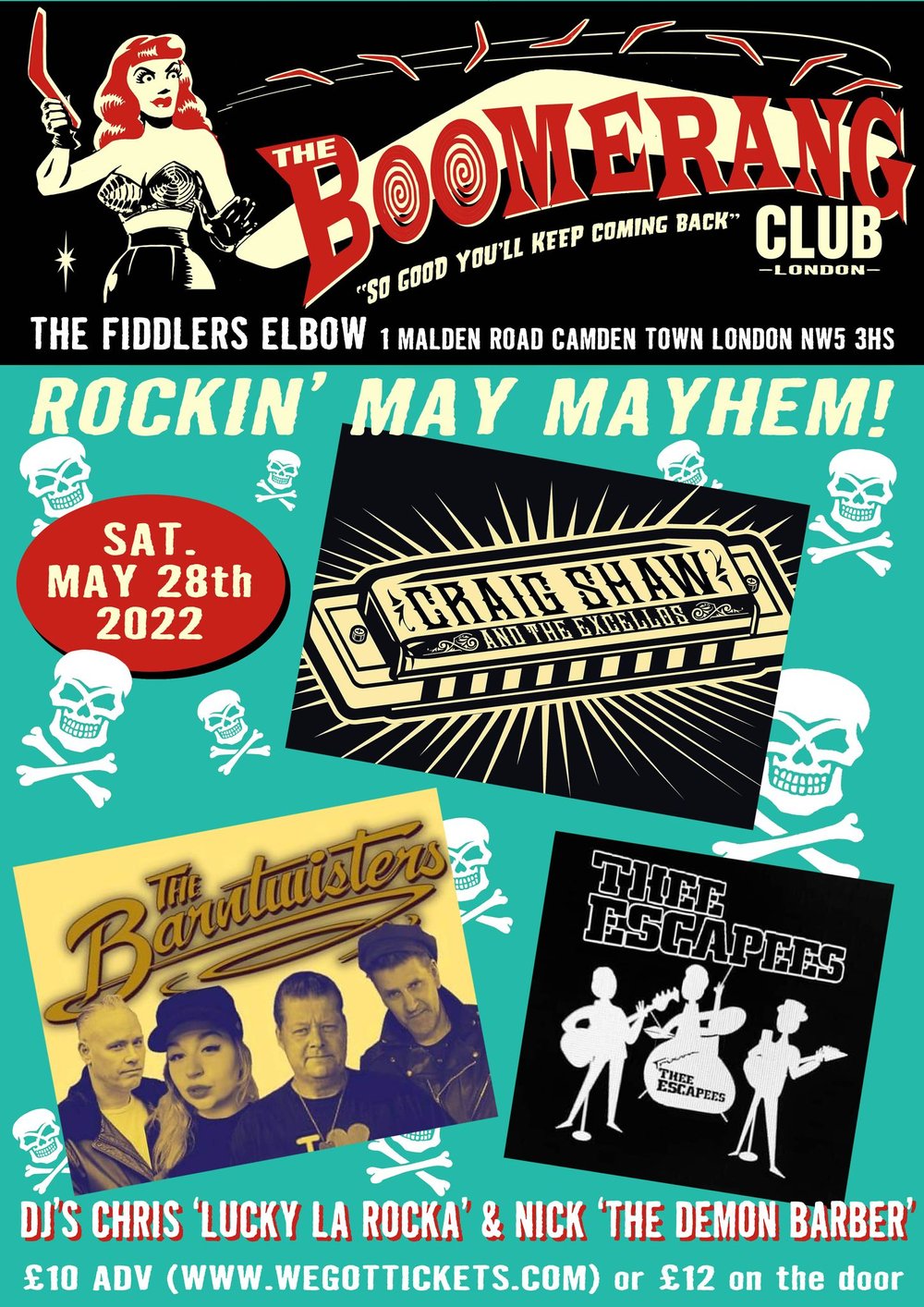 THE BOOMERANG CLUB - May Mayhem! Craig Shaw & The Excellos, The Barntwisters, Thee Escapees.
A triple whammy of bands and 2 top D.J's Nick 'The Demon Barber and Chris 'Lucky La Rocka'..!
Craig Shaw & The Excellos...Expect fantastic romping & stomping raw good time blues & rhythm!
They were formed in 2008 for the love of roots rockin rhythm & blues music. The band went on to play many major clubs and festivals around the world with their unique take on the blues. The current line up features Craig Shaw - Vocals, Harmonica, guitar. Shaun Hoolan - Guitar. Nico Sc'erri - Double Bass, Cigar Box Guitar. Mark Morgan - Drums. The sound is mightier than ever!
Supporting them are The Barntwisters from Sweden!
This is going to be their exclusive and premier gig in the U.K.!
"A band that breathes 1950's Rock 'n' Roll with a twist!" Swedish rockin' sensation, fronted by one-woman-tornado Queen E, are a blasting
50's rockabilly straight in to the future.
..Tearing up stages all around the north. The Barntwisters are ready to rock the rest of the world.
Evelina (Queen E) vocals , Peter-Drums, Stefan-Double Bass, Totte (Mr T) Guitar
Full length 13 track cd on Always a hit records August 2021.
..Kicking off this May Mayhem we have Thee Escapees.
They are inspired by the sounds of 1960's garage beat trash with a mixture of rhythm & blues and a rock n roll beat. They have a debut album due out on Spinout Nuggets in May!
Tickets available via wegottickets!!!
Source: The Fiddler's Elbow website